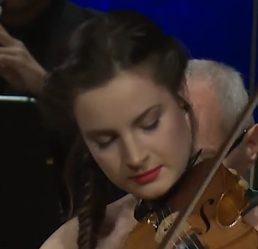 New Zealand violinist Amalia Hall, one of six finalists currently taking part in the 2015 Joseph Joachim International Violin Competition Hannover, performs Mozart's Fifth Concerto in the semi final.
Appearing with the Munich Chamber Orchestra, the twelve semi-finalists both directed and performed their Mozart concerto.
The violinists are competing for a first prize of €50,000, a CD production with Naxos, and concerts with internationally renowned orchestras and ensembles.
Amalia Hall - Semifinal Round 2 from JosephJoachimTV on Vimeo.