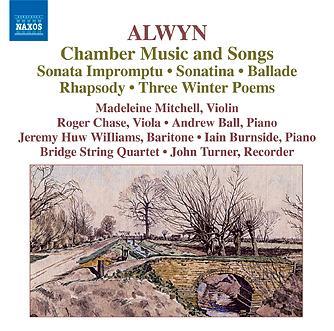 THE STRAD RECOMMENDS
The Strad Issue: January 2007
Musicians: Madeleine Mitchell (violin) Roger Chase (viola) Andrew Ball (piano) Iain Burnside (piano) John Turner (recorder) Jeremy Huw Williams (baritone) Bridge Quartet
Composer: Alwyn
William Alwyn was one of the most underrated English masters of the last century. His vast output ranges from five symphonies to various concertante pieces, song cycles, operas, some 60 film scores and music for nearly 150 documentaries. A lesser-known fact is that he was one of the great flautists of his generation. Alwyn played regularly with the London Symphony Orchestra and also gave a number of important premieres, both as soloist and a keen chamber music player.
Madeleine Mitchell is a gifted violinist whose relative neglect on disc is inexplicable. She produces a sound of blemishless purity, exquisitely coloured by myriad shades of vibrato and ear-ringingly true intonation. Alwyn's three-movement Sonata Impromptu for solo violin and viola presents all manner of technical and interpretative challenges, yet Mitchell and violist Roger Chase dovetail their phrasing and dynamics so sensitively that any potential difficulties seem to fall away. Indeed so well matched are Mitchell and Chase's timbres that when comparing the wistfully impassioned ten-minute Ballade for viola and piano and the glorious Violin Sonatina one might be forgiven for assuming it was the same player.
The Three Winter Poems – 'Winter Landscape', 'Frozen Waters' and 'Snow Shower' – sound quintessentially English yet retain the unmissable accent of their composer, especially in a performance as texturally alluring and affectionately voiced as that by the Bridge Quartet. The Rhapsody for Piano Quartet embraces the most overtly impassioned music here and is like everything else on this fine disc expertly performed and beguilingly recorded.
JULIAN HAYLOCK