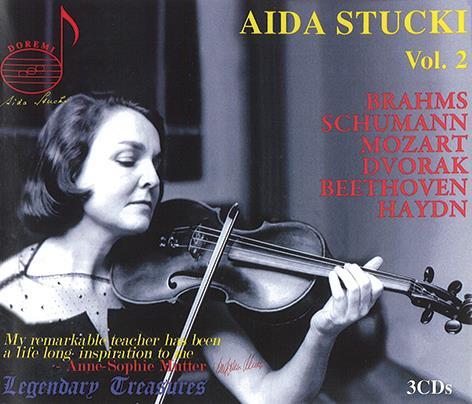 The Strad Issue: January 2011
Description: A timely tribute to the artistry of the Swiss violinist and teacher
Musicians: Aïda Stucki (violin) Stucki-Piraccini Quartet, Pina Pozzi, Walter Frey (piano) Hans Andreae (harpsichord) Zurich Radio Orchestra/Erich Schmid, Pro Musica Orchestra, Stuttgart/Rolf Reinhardt
Composer: Brahms, Schumann, Haydn, Brahms/Schumann/Dietrich, Mozart, Beethoven and Dvorák
This is the second box devoted to the distinguished Swiss violinist Aïda Stucki, who died on 9 June, aged 90. Vol.1 was all Mozart, handicapped only by a stolid pianist in the sonatas. Vol.2, mainly of Lugano, Paris and Zurich radio tapes, is well served in the keyboard department. With recordings ranging from 1951 to 1972, sound quality varies, but it always lets the quality of the performances come through.
The three Brahms sonatas (1972) are beautifully played, although violin tone can be a little strident. Walter Frey's slightly backward balance is not injurious. Stucki thrives on the lyrical first two sonatas and rises to the D minor's challenging outer movements. The A minor Quartet (1971), with Stucki leading her husband and two colleagues, also gets a lovely reading, its slow movement deceptively simply phrased. Dvo?ák's Terzetto (1969), with a different violist, is less well recorded but nicely performed.
Schumann's Fantasy, one of Stucki's rare commercial recordings, is convincingly done, in good sound for 1953, with a superbly executed cadenza. Haydn's double concerto (1960), featuring the fine harpsichordist Hans Andreae, is heavier in style than we would hear today and Stucki's E string is sometimes a tad strident, but it is all very musical.
Three items preserve Stucki's partnership with the delectable Pina Pozzi. The dimmish sound of a fleet-footed Mozart K303 has the effect of making the violin seem recessed, but Beethoven's op.96 from the same 1962 programme is first-rate. The players are in accord: Stucki's cadenza in the Adagio is delightful, Pozzi's reply is equally spontaneous, and they really let themselves go in the finale. French Radio supplies a 1951 'FAE' Sonata (Allegro by Dietrich, Intermezzo and finale by Schumann, Scherzo by Brahms), on which Pozzi and Stucki lavish all their art, triumphing over dated sound.
TULLY POTTER