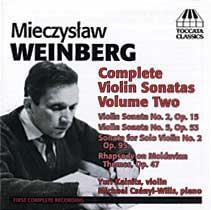 The Strad Issue: January 2014
Description: A wide range of emotion from a master of the Soviet era, expertly traversed
Musicians: Yuri Kalnits (violin) Michael Csányi-Wills (piano)
Composer: Weinberg
In this much-anticipated follow-up to the first volume in this series, which I welcomed back in September 2011, Yuri Kalnits and Michael Csányi-Wills continue their exploration of Mieczyslaw Weinberg's violin oeuvre, opening with the Rhapsody on Moldavian Themes, which is surprisingly closer in spirit to the Brahms–Liszt prototypes than his friend and stylistic mentor Shostakovich's invariably sardonic handling of such material. Kalnits and Csányi-Wills relish the music's orchestral origins with plenty of high-kicking chutzpah, making the comparison with the earlier Second Sonata's introspective thought processes all the more startling. Shostakovich's penchant for turning neo-Classical gestures in the major mode into nostalgic musings of intense sadness, and fugal chicanery into outbursts of vehement protest, are unmistakably felt. Yet the central Lento embraces an uncomplicated lyrical impulse that Shostakovich rarely if ever permitted in his chamber music.
Weinberg's highly personal voice emerges more clearly in the Fifth Sonata, composed in 1953 following several weeks' incarceration by the authorities for (as David Fanning points out in his exemplary annotations) 'Jewish bourgeois nationalism'. Kalnits's sensitive handling of each haunting change of mood is particularly striking here, his gently cushioned staccato capturing the music's underlying cantabile espressivo with captivating aplomb. Most memorable of all is the op.95 Solo Violin Sonata of 1967, which Kalnits brings stunningly to life via a dazzling range of expressive nuances and articulation, captured in first-rate sound.



JULIAN HAYLOCK