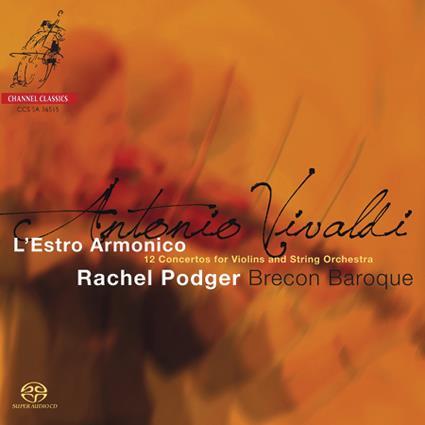 THE STRAD RECOMMENDS
The Strad Issue: June 2015
Description: Podger's Brecon players are compelling in better-known Vivaldi
Musicians: Rachel Podger (violin/director) Brecon Baroque
Composer: Vivaldi
Rachel Podger continues her exploration of Vivaldi's violin concertos with his set of twelve, L'estro armonico op.3 (1711), accompanied this time by her ensemble Brecon Baroque and with some former pupils at her side. Using minimalist forces to interpret these works for one, two and four solo violins, the group gives compelling performances which are full of energy, drama and musicality – just sample the finales of the four-violin concertos nos.1, 4, 7 and 10 or the first Allegros of nos.2, 5 and 8 (for two soloists). Bojan ÄŒičić, Johannes Pramsohler and Sabine Stoffer join Podger in cohesive repartee in the four-violin concertos, articulating clearly, ornamenting neatly and incorporating subtleties of dynamic and expression. They particularly capture the drama of the Largo e spiccato of no.1 and the contrasting arpeggiando articulations of the slow movement of no.10, Podger sometimes adding imaginative linking passages.
ÄŒičić and Pramsohler share the solo second violin responsibilities in the double concertos and match Podger in her every move, notably with inventive, tongue-in-cheek elaborations in the Allegro of no.2 (ÄŒičić) and in the subtly differentiated cantilenas of no.8's Larghetto (Pramsohler). Podger is technically athletic, pitch-perfect, incisive but never edgy, highly expressive and alert to every nuance in the solo concertos.
Cellist Alison McGillivray also plays a solo role in several movements of the set and never disappoints, and her continuo colleagues vary their instrumental timbres appropriately, Marcin ŠšwiÄ…tkiewicz contributing some imaginative organ/harpsichord realisations in collaboration with Daniele Caminiti and David Miller's theorbos and Miller's Baroque guitar. Recording and production are excellent.
ROBIN STOWELL