Ruth Rogers, Victoria Sayles, Rose Redgrave and Katherine Jenkinson are playing string quartets to Burmese refugees on the Thai-Burma border. This is their fourth blog entry for The Strad website, written by Ruth Rogers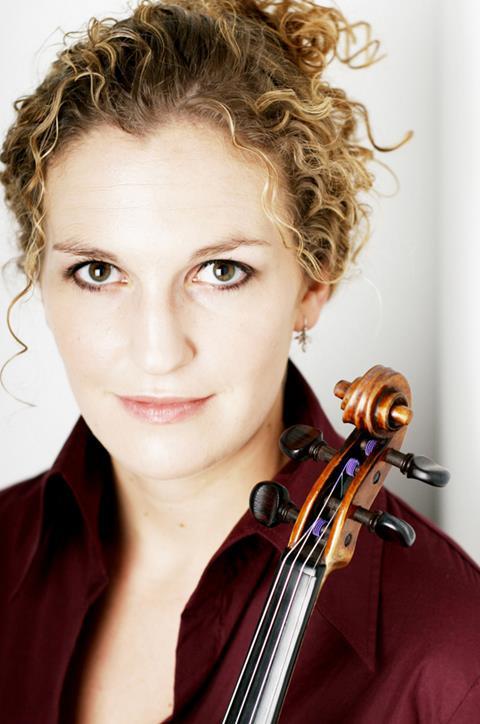 We are all exhausted after a busy and emotional day. This morning we played at the Mae Tao Clinic in Mae Sot, a clinic and hospital that was set up nearly 20 years ago to provide medical treatment for Burmese refugees. When it was founded it consisted of a wooden hut. Now it has expanded thanks to funding, and last year more than 100,000 patients were treated. Many of them get across the Thai border unnoticed and go back to Burma once they have received medical assistance. Others are given a day pass and hope that a doctor will be able to see them.
We played on a stage in the open air with a canopy for shade while people came and went. Some were medics, some patients - mothers with young children, frail elderly people and young men. The music may have helped them pass the time while they waited to be seen by doctors, or it may have provided some distraction from pain, and some of the medics told us that we had brightened their day. For all of the refugees and migrants the sight and sound of a string quartet was an absolute novelty. Children giggled, adults smiled. When we tried to finish, we were asked to play a few more pieces. So of course we did.
After the informal concert, we were given a tour of the clinic. There is a busy prosthetics department: the need for artificial limbs has trebled in the past year due to landmine accidents. There is a maternity ward where babies are born and mothers are given advice on how to care for them. We saw two tiny babies who were born earlier this morning. Outpatients come for dental care, and there is also a surgical department and a family planning clinic. Children are vaccinated against measles, hepatitis and other diseases. The Internally Displaced People of Burma (IDPs) would not have access to any of this kind of help if it were not for this clinic.
Our second engagement of the day was at the office of the AAPP, which stands for the Assistance Association for Political Prisoners. This is an organisation that helps Burmese people after they have been released from unfair imprisonment in Burma. We met people who told us why they had been imprisoned - one for writing a poem about freedom, another for publishing a book on the history of Burmese students, and another for taking part in a peaceful protest. One of the former prisoners showed us around a small museum and explained what prisoners go through during their detainment. The images we saw were barbaric and brutal and involved shackles, beatings, solitary confinement and other methods of torture. We were all crying by the time he finished talking. We all felt embarrassed for our emotion: these were the people who had suffered, not us. Yet this man's strength of spirit, his courage and his smile were utterly inspiring. We also talked to a woman who had been wrongly detained for seven years and she too had a radiant, genuine smile.
Yet again music spoke a universal language – one that crosses all boundaries. I was struck by the fact that for a string quartet to work, each and every player must work in harmony with the others. If only such rules could be applied to every aspect of life. We played Dvorak's 'American' Quartet (again!) and this time we dedicated it to the suffering people of Burma. Our performance was broadcast on a radio station that goes out to IDPs and refugees inside Burma, and a member of the audience wrote a moving poem inspired by the music. We all felt that the music reached out and touched people in a way that would otherwise be impossible in such circumstances. Even as I write this, I feel frustrated at how inadequate words can be when trying to express something.
Finally, we drove out of town to a small, impoverished, rural cluster of huts and performed in the middle of a cabbage patch! We played to migrant workers and children, with hills behind us, banana and coconut trees around us, the sun slowly sinking in the sky, the scent of coriander in the air, and a dog occasionally barking in the distance. It was definitely the most unusual concert we have ever given!
I just can't believe that we are leaving tomorrow. I also can't believe how much we have packed in every day, and how topsy-turvy my sense of time has become: it feels as though I have been away a long time and yet I can't believe how quickly the days have raced by. We all talked this evening about how we feel and what we have done. It has been inspiring, humbling and extraordinary. We all stopped playing for ourselves and thought only about giving to others through music. We all felt that music could reach people, and we hope that it brought joy and pleasure. Everywhere we went, we saw wonderful smiles. There is hope all around these people. And anything that transports them out of their world for a short while can only be a good thing. Most of all, we discovered that music can be much fun for children.
The experience has been exhausting, fulfilling and wonderful. Most of all it has been unforgettable. We are already planning a return trip next year and we are already discussing how we might be able to raise the money to make that possible. I would like to say an enormous thank you to all those who gave donations towards our trip - you made my dream come true; to Vicky, Rose and Katherine for being absolute stars as musicians and as human beings; and to all the readers that have taken an interest in this blog. Please tell the world about the plight of the Burmese people.
Ruth Rogers