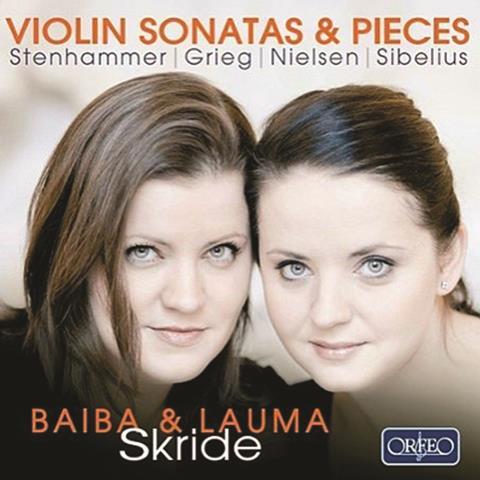 The Strad Issue: December 2016
Description: The Skride sisters present an attractive Nordic recital
Musicians: Baiba Skride (violin) Lauma Skride (piano)
Composer: Grieg, Nielsen, Sibelius, Stenhammar
Catalogue num ber: ORFEO C913 161A
This thoughtfully planned recital is not titled 'Music from Scandinavia', as it well might have been – and that just goes to show how misleading such blanket labels can be. The four composers represented may have been geographic neighbours and shared a common heritage (up to a point), but the very different ways in which they cultivated that heritage are their achievement alone. Grieg's G major Sonata feeds unashamedly on Norwegian folk music in its recollections of Hardanger fiddling and traditional 'springar' rhythms. These are relished by the Skride sisters, who cannily pace the long build-ups and thematic transformations typical of the composer.
Stenhammar's Sonata betrays the composer's Berlin education in its adherence to forms and formulae from German Romanticism (he would later seek – and find – a more obviously 'Nordic' idiom). The conspicuously high violin writing draws attention to Baiba Skride's uncommonly beautiful tone even in the uppermost reaches of the E string. Nielsen's strange, angular melodies and unconventional formal and tonal schemes are convincingly laid before the listener in a forceful reading, as are the four pieces that Sibelius gathered as his op.78. Therein, the Religioso recalls the composer's Lutheran upbringing, while the final Rigaudon sounds like the work of a Nordic Fritz Kreisler. The Skride sisters are a uniquely attuned team throughout this well-recorded and altogether recommendable recital.
Carlos Maria Solare