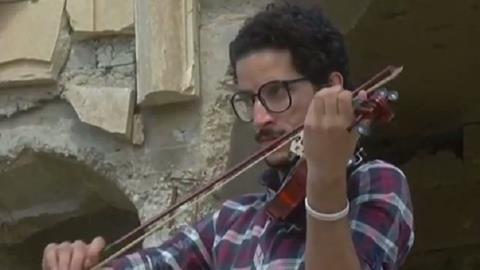 Musician Ameen Mukdad has given a public performance in the Iraqi city of Mosul, where so-called Islamic State banned music and seized instruments.
The violinist performed for around 20 people at the Nebi Yunus shrine - containing what Muslims and Christians believe to be the tomb of Jonah, as he was known in the Bible, or Yunus in the Koran. Much of the site was destroyed by IS shortly after they captured the region in 2014.
When Iraqi government forces regained control of his district in January 2017, Mukdad, who had lived under IS rule for two years, moved to Baghdad. He returned to the town to perform at the shrine this week.
Better images, but less music, courtesy of Online Malaysia below: