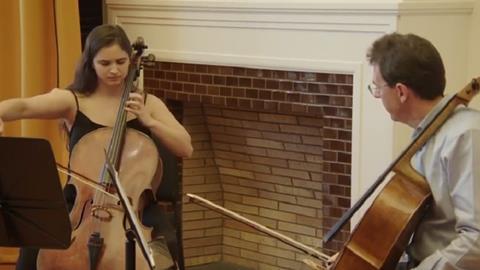 There are two separate statements in the opening: the first is hopeful and questioning; the second provides an answer'
Vienna Philharmonic principal cellist Tamás Varga coaches Clara Abel on an excerpt from Brahms's Symphony no. 2 in the Resnick Education Wing of New York's Carnegie Hall on 23 February 2017.
The session was one of three masterclasses with members of the Vienna Philharmonic, which took place in February to coincide with the orchestra's performances at Carnegie Hall. The young artists taking part were alumni of Carnegie Hall's youth orchestra programme, NYO-USA.
Watch: Berlin Philharmonic violinist Noah Bendix-Balgley gives Mozart audition masterclass