On Tuesday 1 May I will set out again on a Bach Pilgrimage, taking round the solo violin music of J.S. Bach to communities up and down the country. My odyssey this year is a little more modest than the marathon of 2013 when I covered some four thousand miles and did 50 – yes 50 (!) concerts in two months. But, none the less, 22 concerts in 29 days will test my stamina. Not tested will be my wonderment and enthusiasm for this music as it continues to yield riches for the mind, soul and senses.
Of course no greater music has been written for the instrument; one feels this from that first huge G minor chord on the opening page right through to that delectably delicate E major Gigue on the last. This is violin music conceived by one who knows and senses the instrument inside out.
Yes, as we all know JS Bach was a fabulous keyboard player and with the agility of mind of a unique genius but, he is as well, one of us – a violinist, a fiddler, a jobbing scraper even. (We should remember that his first paid appointment was as a violinist in a Court Orchestra in Weimar after all.) And this can be felt in every note – one knows that he knows what we will be feeling with every chord, how every slur, so tellingly penned, will turn the arm and delight the senses if we achieve the phrasing he asks for.

Just take a look for instance at those bars of written out arpeggio in the Chaconne before he decides not to blacken a whole page and giving just the chords. Here is a totally sensual way of writing out this D minor chord. The way the F and the A are bent around the open D string and then the way the bowing is marked – with the changes not on each beat but displaced. Every violinist of almost any level knows what this feels like. And its not just that he wants us to avoid stress on the main beats but he knows this will feel good. In short, when we violinists play Bach we're not just playing his notes, we're joining in a sensory communication with the composer. I don't think it gets better for a violinist. Johann Sebastian becomes a companion. So I'm looking forward to the next month.
I've had to get my memory back up to scratch of course. There's no secret here, just lots of time spent playing and then not playing but thinking through each piece and in countless different ways. Though now I do feel I can retrieve that longed for sensation of knowing that it's all there and enjoying the freedom to really fly that comes with it. That hoped for feeling of the music coming though one.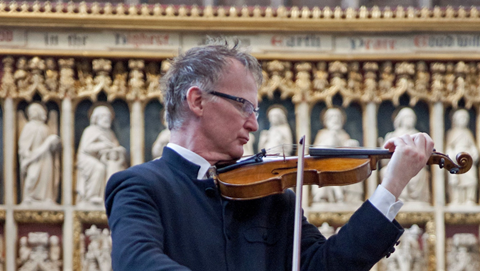 But careful! There are the trap doors to remind oneself of, the slightly similar passages even across separate pieces. (Strange, I notice how keen colleagues are to share their stories of memory lapses by themselves and others. Why do we have this fascination with things going awry? Another uniquely violinistic tendency?)
I must admit that I now think more and more in terms of the whole set as a gigantic superwork. The B minor Partita for instance I now think very much as being between the G minor and the A minor; the G minor itself is not just the first work in a set of six but as the commencement of the whole thing – a kind of epic. And though I seldom do them together in a concert I think of the relationship of the D minor and the C major as being the most important in the whole cycle.
I prepare those twin peaks the Chaconne and the C major Fugue with equal care and a very gently sloping ascent in practice intensity. Both need to be so strong so as not to crack under the stress of performance. There are no tuttis here to recompose oneself, take a breather and regroup if you start feeling tired or uncertain.
Of course there is still some juggling to be done in order to ensure that when I first put bow to string in St Mary's Abbey in West Malling next week all is in order in mind, spirit and body. Hundreds of practical details will be pressing on my brain too before I actually sink into that first G minor chord. But then, as horse hair meets gut and my ancient Amati starts to sing, so begins the real journey – always different, though always the same.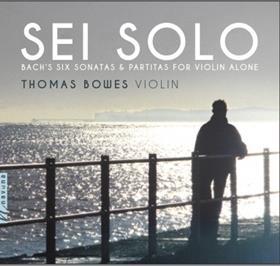 Thomas Bowes will be blogging on his website during the course of his Bach Pilgrimage
His recording of the Six Sonatas & Partitas will be released on 8 June 2018 on Navona Records NV6159 (3CDS)