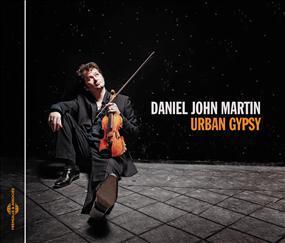 The Strad Issue: January 2013
Description: An album that takes the Parisian jazz quartet into new realms
Musicians: Daniel John Martinu(violin/vocals) Claudius Dupont (double bass) Mathieu Guinot, Samy Daussat (guitar)
Composer: Urban Gypsy
When a violinist assembles a Parisian quartet – guitars included – and references 'gypsy', the intent would seem clear enough. Actually – and it's a pleasant surprise – there's only one Reinhardt/Grappelli cover on this album, the rest being by British-born Daniel John Martinuand bringing in various more recent popular styles as well as swing. Ici Londres is typical of this, with Grappellian lines blending with post-bop and funk. Martinuoften takes a high-energy, rocky approach in his generally fluent improvising, and it works here and wherever else there's a high-ish tempo to suit his urgent breathlessness. But he could do with a lower gear in less frenetic music such as 100 Congleton Rd, where the tone of the opening is beautifully mellifluous, before his solo gets unnecessarily busy.
Martinuadds vocals to some of the tunes and it's not his strongest suit. Also, given the prevalence of familiar tune–solo–tune forms, the album could have been trimmed a little. But there's a nice balance to the group, especially as the violin is brought back a little in the mix and placed on an even footing with the guitar. This lends a more subtle colour to music that is at times a little predictable.
JAMES CREL