Violist Colin Brookes says his violinist colleagues were told their instruments could be stowed in the cabin on the ANA flight, but that his viola should be checked into the hold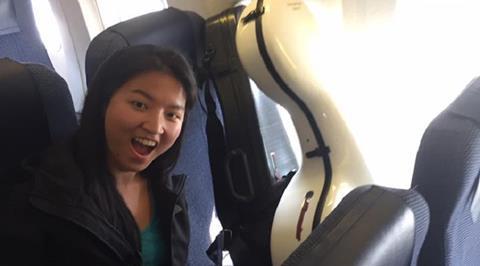 Violist Colin Brookes of the Ulysses Quartet has recounted an incident on a recent All Nippon Airways (ANA) flight following the ensemble's second prize win at the Osaka International Chamber Music Competition in Japan last week.
'Flying ANA, we reach the security gate where three of us, two violinists and violist, are held up,' Brookes wrote on his Facebook page. 'They try to inform [violinists] Tina [Bouey] and Rhiannon [Banerdt] that they must check their instruments [into the hold]. My viola is set aside and I am told to wait. Measurements are taken, and dozens of messages are relayed over walkie-talkie back and forth to supervision. Meanwhile, the violins are eventually approved as carry-ons, with a little shouting and argument.
'As I wait next to my viola, they take more measurements and inform me that it exceeds the [maximum] regulations for length as carry-on baggage. I am told the plane is too small, and people have carry-ons so I must check it [into the hold].'
At this point, Brookes and his colleagues informed airline staff that they had flown into Osaka via Tokyo on 'the exact same plane model' less than two weeks ago, and that there were no problems stowing their instruments safely in the overhead lockers - they were even offered priority boarding. However, staff simply repeated their insistence that the viola exceeded cabin baggage size restrictions and that Brookes should either buy an extra seat, check his instrument into the hold, or remove it from its case and carry it on the flight 'bare', resting on a cushion.
'By this point, the flight is being held past gate departure time, and in a last ditch effort our cellist Grace [Mei-En Ho] suggests the viola can fit behind her cello in a seat already purchased by our travel provider,' continued Brookes. 'ANA representatives accept this solution and we run to the plane. Once the manager escorts us to the purchased seat, he approves the safety regulation of the viola tucked behind the cello.
'The fact that it came down to that is mind-blowing. We are just trying to make the world a better place by sharing our music, and it's only harder to do this when airlines like ANA give us so much difficulty.'
This is not the first time that violas have been singled out as unacceptable items for carry on baggage. In October 2014 Air Canada published new hand baggage rules which stated that violins were allowed as carry-on baggage, but violas must be checked into the hold. Following a public backlash, the airline reversed its policy to allow violas into the cabin.
ANA's hand baggage policy states: 'When carrying on bulky baggage which does not fit in the overhead bins or underneath passenger seats, such as paintings, musical instruments, etc., you will be required to purchase a ticket for an additional seat.'