Cello octet Cellophony have encountered various difficulties when touring, but charm and optimism go a long way, writes ensemble member Richard Birchall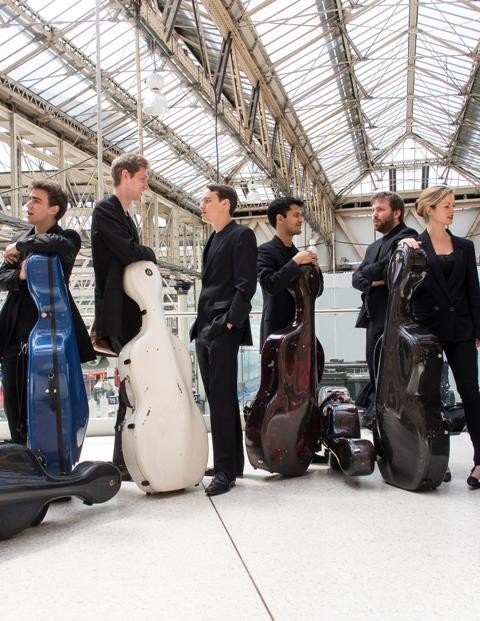 Cellists regard their cellos rather like they might their own children. It is inevitable when you spend so much time in each other's company that a deep bond of affection will develop, and instruments quickly become very precious as a result. They are also very expensive, unpredictable, and require constant supervision whenever out of the house (not to mention their own special way of making a mess of your floor.) Cellophony cello octet are an unusual ensemble, since there are as many cellos as there are grown-ups; it's a pretty healthy parent-child ratio, but quite a burden of care when we're travelling.
Ticket inspectors and airline officials, by contrast, don't see cellos as children — they see them as inanimate objects in cases. In other words, luggage. This discrepancy in perspective is irksome to all cellists from time to time, and for eight of us travelling together it can be quite intense! But we can't risk putting the cellos in the hold or in the luggage car in case they get damaged, so we have to insist on keeping them with us at all times — to the extent of buying extra seats on the plane so that we can sit next to each other.
Air travel is undoubtedly the worst, largely because each airline seems to have its own unique and ever-changing set of rules on the subject. If we manage to charm our way through check-in and security (we're getting pretty fast at that now), when we turn up at the cabin with our cellos the fun is only just beginning. We've had everything from simple seat belt extensions to five large men grappling with metres of blue rope to try to ensure the cellos are seated comfortably in their window seats.
We managed to delay a whole flight to Geneva last summer because the cabin crew couldn't make up their minds on the proper procedure, and whatever they tried didn't quite match up with the picture in the manual. In the end they took all the relevant seats to pieces and installed the cellos in a beautifully reclined position, only to come round and do it all again because they'd put them in the wrong way up! We could only observe, and try to keep each other quiet. Luckily we weren't late for the concert, and the silver lining on such occasions is that airline food is served per seat, so canny cellists can always double up...
There are other advantages to the constant companionship, too. None of us will forget a post-concert train journey back from Northampton a few years ago; the service was heavily delayed, and during an extended standstill we took the opportunity to treat the rest of the carriage to the first movement of Villa-Lobos's Bachianas Brasileiras no.1, which we used to play so often that we all knew it from memory. It definitely cheered everyone up, even as the prospect of catching the last tube faded away. For once we did actually 'Give us a tune!'
Cellophony's debut album, 'Vibrez', is out now on Edition Classics, featuring works by Bach, Barber, Liszt, Mendelssohn, Schubert, Sollima, Wagner and Wieniawski.

Subscribe to The Strad or download our digital edition as part of a 30-day free trial. To purchase back issues click here.