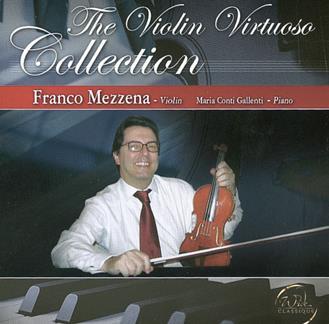 The Strad Issue: January 2008
Musicians: Franco Mezzena (violin) Maria Conti Gallenti (piano)
Composer: Sarasate, Wieniawski, Bloch, Saint-Saëns & Paganini
To present an album of virtuoso showstoppers by Sarasate, Wieniawski, Saint-Saëns et al – especially one with such well-worn favourites as the Carmen Fantasy, Scherzo–Tarantelle and Havanaise – is to invite comparison with some of the greatest players to have ever picked up a violin in earnest. But then Franco Mezzena is very much his own man, with a pure, relatively lightweight, unmistakably Italian sound and an aristocratic grace to match. Listening to his gently cushioned staccato and concentration on velvety cantabile (nicely captured by the warm recorded ambience), aerated by a Milstein-like tonal transparency, it comes as no surprise to learn that he is a former pupil of Salvatore Accardo and that he has played for the likes of I Musici and the Virtuosi di Roma.
As long as the music retains its legato tunefulness, Mezzena is in his element, as witness much of Sarasate's Malaueña and Bloch's Nigun. He sounds altogether less comfortable with spiccato and ricochet, which although brilliantly dispatched are tonally undernourished. This is a particular problem in the final section of the Carmen Fantasy (recorded during a different session if the sudden shift in violin image from right to central channel is anything to go by), which is bracingly free and sonically gilt-edged, yet almost comes to grief at one point as the rapid-fire string-crossing threatens to overwhelm him. Mezzena's silvery brilliance really comes into it own in Wieniawski's Scherzo–Caprice, even if Paganini's La campanella ideally requires more tonal opulence to make its full impact.
JULIAN HAYLOCK