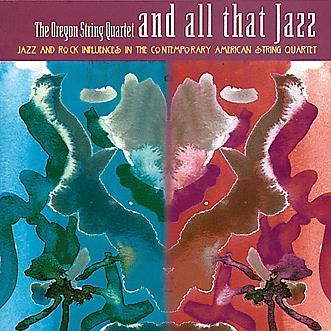 The Strad Issue: January 2007
Musicians: Oregon Quartet, Diane Monroe (jazz violin)
Composer: Glinsky, Lee, Steinhardt, Baker & Gearhart
The Oregon Quartet's mission here was to unearth recent jazz- and rock-oriented chamber music for the contemporary audience. The selection of pieces varies in scope as well as in the approach to incorporating popular idioms but, moments of unusual texture (including the use of three violas) aside, the risks and rewards lie in general in the music's rhythmic quarter.
The group responds to Albert Glinsky's jaggedly irregular moto perpetuo with sparkle and bite, aided by a clear but slightly lively acoustic, though bigger challenges await in David Baker's Sonata for Jazz Violin and String Quartet. Here the soloist and accompaniment have some difficulty negotiating the terms of their swing, as the quartet is occasionally wont to push while the experienced Diane Monroe leans on the back of the beat. This is not helped by the writing, which veers between straight and swung quavers and could sometimes provide more supporting rhythmic interaction for Monroe to work with. Nevertheless, once in her stride she really swings, and her oily, shimmering tone complements the group sound intriguingly.
The ensemble work is equally slick. The flashy passages are dispatched with aplomb, but the tricky, stop-start syncopation of Oboe Lee's pseudo-tango should be equally heralded. Here, too, both accordion and violin are evoked through a unanimously nuanced spectrum of vibrato, a quality missing from the rather monotonously impassioned rendition of the second movement of Glinsky's Canandaigua Quartet. Occasional blemishes aside, however, the Oregon Quartet makes a persuasive case that this repertoire should be heard.



Chris Elcombe