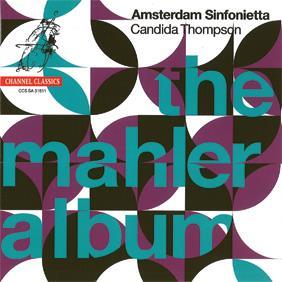 The Strad Issue: January 2012
Description: An unusual but telling contribution to the recent Mahler anniversaries from a leading string orchestra
Musicians: Amsterdam Sinfonietta/Candida Thompson
Composer: Mahler (arr. Stadlmair), Beethoven (arr. Mahler)
Cast aside any accusations of 'bleeding chunks' with this celebration of Mahler: the composer himself often programmed the Adagietto from the Fifth Symphony as a separate concert work, while the Adagio is all he managed to complete, in performable terms, of his Tenth. The account of the Adagietto from this crack Dutch string orchestra (with added harp for this piece, of course) is perhaps a little indulgent – more drawn-out Bernstein than whippet-like Norrington – but the tonal colouring is a constant marvel. Mahler's string orchestra transcription of Beethoven's Quartetto serioso is relatively straightforward, and the players respond tellingly to its dynamism, though the sound here is a bit thicker than elsewhere (the recording locations vary).
The real revelation, though, is Hans Stadlmair's 1970 arrangement of the first movement of the Tenth Symphony for string orchestra. It's a masterpiece of rescoring, with its resourceful use of solo and tutti lines enough to make the wind and brass of the original seem redundant, from the opening solo viola line to the cataclysmic nine-note chord at its climax. And it would be hard to imagine it performed more effectively – and affectingly – than here, where a generous but clear acoustic and spot-on tempos and pacing allow every detail in Mahler's counterpoint to sing and every sumptuous chord progression to take hold of the senses. Hear it and be knocked sideways.
Matthew Rye