Australian violist Glen Donnelly's stunt is raising money for body image charities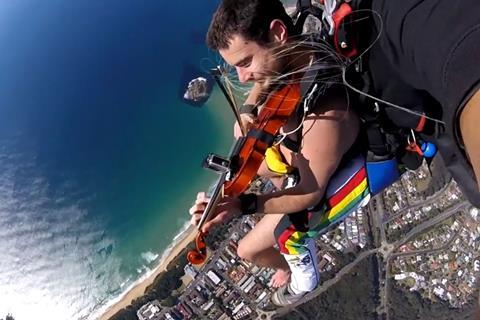 Violist Glen Donnelly moved from Australia to the UK to study at the Royal Academy of Music and was beginning to make headway in a career, spending some time on the London Symphony Orchestra's 'String Experience Scheme' for young professionals.
However, in 2013 he suffered a breakdown caused by body dysmorphic disorder – a persistent and debilitating anxiety disorder relating to body image. Donnelly traces the trigger of the disorder to 'one comment from a fellow musician about my "tubby" belly' when he was 18.
'I started silently sucking it in 24/7, creating a mental and physical prison in my body that would lead to a breakdown.'
Since then Donnelly has returned to Australia and recovered, partly by embracing naturism as a way of accepting his body as it is.
For his 30th birthday he decided to organise the stunt to raise awareness of body image issues, especially as they affect men who, he suggests, are uncomfortable about revealing their vulnerabilities and 'suffer silently'. Via a GoFundMe page, he hopes to raise AUS $15,000 – one dollar for each foot of skydive – which he will distribute to relevant charities.
Donnelly did the jump with a cheap, factory-made violin, strapped to his body in three places to make sure there was no chance of dropping it or the bow.
See the censored version of the video below.