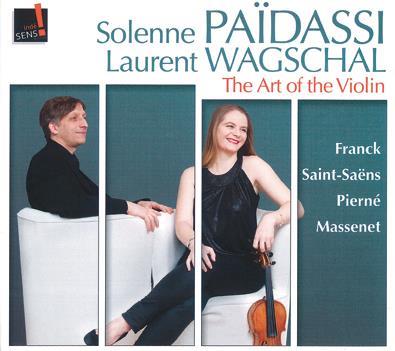 The Strad Issue: January 2013
Description: A warm-hearted exploration of Franco–Belgian violin sonatas
Musicians: Solenne Païdassi (violin) Laurent Wagschal (piano)
Composer: Saint-Saëns, Pierné, Franck, Massenet
The 'Art of the Violin' indeed. Specifically the Art of the Franco–Belgian Violin at the end of the 19th century. The composers are a cosy group, with Pierné a student of both Franck and Massenet. Solenne Païdassi, winner of the 2010 Jacques Thibaud Competition, is a technically impressive exponent, ably partnered by Laurent Wagschal. Her playing of Saint-Saëns's First Sonata is clear-toned and elegant, with a sweetness that doesn't cloy. The Adagio has a dreaming, wistful quality, and her staccato playing in the last two movements is nicely focused: she scampers splendidly through the moto perpetuo finale.
Païdassi opens out in Pierné's 1900 Sonata, a work that deserves to be better-known. There is much that is rich and subtle here beneath the predominantly gentle surface, hints of interweaving passions which she explores skilfully. The second movement emerges as a wistful essay, and there are muscularity and agitation in the finale.
Her account of Franck's Sonata is faithful to the score and free of any self-indulgence. The recorded balance is disconcerting at times – she leaps from the speakers at the beginning of the second movement. Most red-blooded of all is the Thaïs 'Méditation', open-hearted and passionate.
TIM HOMFRAY