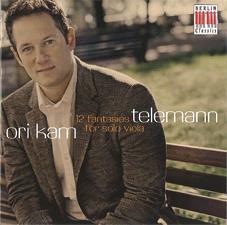 The Strad Issue: January 2012
Description: Historically aware account of a collection for solo viola
Musicians: Ori Kam (viola)
Composer: Telemann (transcr. Kam)
Telemann's Fantasies, published in 1735, are sometimes thought of as poor cousins to Bach's slightly earlier unaccompanied violin and cello works, but – although admittedly less ambitious in scope – they show an equally keen musical mind at work. In this recording, indeed, many movements remind one of parallel passages in Bach's sets (for example the Vivace of the D minor work, with its echoes of the gigues in Bach's Second and Sixth Cello Suites), while the several fugal movements betray Corelli's influence: Telemann was indeed a master of all trades.
Using a viola in modern set-up, Ori Kam plays in a historically aware way, with an extremely discreet use of vibrato. He keeps to first position as much as possible and appropriately uses plenty of open strings, thus clearly laying out the music's implied polyphony and achieving great clarity of articulation. He embellishes the line idiomatically, though I would have liked more of it (some triplet rhythms could have been adjusted, though). He deals judiciously with three- and four-part chords (Telemann's use of double-stopping and chordal playing is, of course, modest in comparison with Bach's or Westhoff's), and there are some impressive trills in 3rds to be admired along the way. The recording quality is warmly enveloping and lifelike.



Carlos María Solare