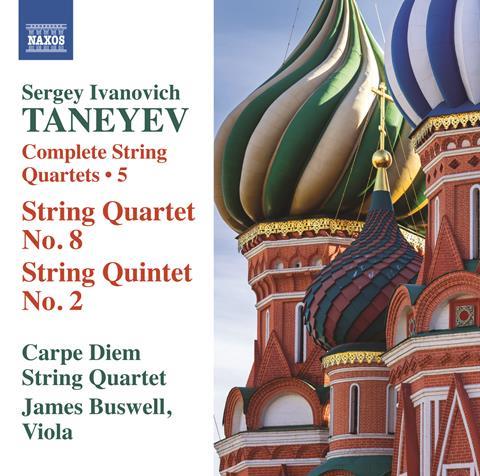 The Strad Issue: March 2017
Description: The Carpe Diem's continuing series reveals the two faces of Taneyev
Musicians: Carpe Diem Quartet, James Buswell (viola)
Composer: Taneyev
Catalogue number: NAXOS 8.573671
The ordering of Taneyev's eleven string quartets is confusing: the first and last were unfinished and remain unnumbered, and the posthumously published nos.7–9 are actually nos.2–4 in order of composition. That makes, if I've done the sums right, no.8 his third. Written in 1883, it certainly sounds an early work in drawing heavily upon Classical models – only its Adagio ma non troppo slow movement suggests it is the work of a burgeoning Russian Romantic. The musicians of the Carpe Diem Quartet give the whole piece a vibrant reading, enjoying its Haydnesque wit as much as its Mozartian grace.
Although connected by the same key, the Second String Quintet of 1905 sounds like the work of another composer: an expansive Romantic essay of almost symphonic scale, with an orchestrated sense of string textures that brings to mind pieces such as Schoenberg's Verklärte Nacht. The Carpe Diem players, here joined by violist James Buswell, reveal their teamwork in an ardent, often forceful account that finds room for tenderness and even melancholy, but which maintains a strong sense of structure and musical process.
The recordings, made in different venues, largely elucidate the varied textures admirably, though that of the Quintet is just that little bit more diffuse.
Matthew Rye