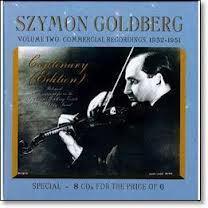 THE STRAD RECOMMENDS
The Strad Issue: January 2013
Description: A well-produced celebration of a golden-era violinist
Musicians: Various accompanists / orchestras / conductors etc
Composer: Bach, Handel, Haydn, Paradis (arr. Dushkin), Mozart, Beethoven, Dvorák & Hindemith
Following up on Music & Arts's wonderful volume of Goldberg's live performances (not reviewed), this collection of his early studio recordings is indispensable if only for the Mozart and Beethoven sonatas with Lili Kraus. They are in my opinion the finest of their kind, yet until now had for the most part scarcely been available. Did a duo ever breathe so naturally together and reveal the music's depths with such fluid grace? Their Mozart (K377–80, K404, K481) even surpasses the extremely fine, better-known versions Goldberg made four decades later with Radu Lupu. Here and in the most Classical of Beethoven's sonatas, op.12 no.2 (a feather-light jewel of a performance), the conversational aspects, the twinkling wit, the tragic and devotional dimensions are captured with sublime simplicity. The variations of K377, for instance, inhabit a state of grace. There is a more tangible sense of interpretation in the larger Beethoven sonatas, notably through very supple pacing. The zestful first movement of the 'Spring' Sonata is a marvel of fresh imagination and refinement. The 'Kreutzer' Sonata is as striking for its volatile bursts as for its profundity, the magnificent second movement culminating in a daringly slow, mystical coda. Ethereal realms and great heights of expressive fervour are reached in the last sonata, op.96.
The rest of this set is studded with exquisite playing. The approach to Bach has dated, yet shows clear evidence of stylistic concern in articulation and textural clarity (particularly the E major Concerto). Goldberg spins magical cantilena in all the slow movements, where his distinctive soft-hued shades achieve a disembodied quality. Haydn's C major and Mozart's A major concertos are crowned by divine adagios. Where brilliance is called on, Goldberg wears his virtuosity lightly, with feline agility and sparkling exuberance.
The Haydn trios are extensions of Goldberg and Kraus's duos – in truth the recording balance is detrimental to Anthony Pini's cello. It is also not ideal in Mozart's duos with viola, better in the Second with Hindemith, where the aria-like Andante cantabile is memorable. Goldberg–Hindemith–Feuermann revel in the effervescent flair of Beethoven's Serenade op.8 and effortlessly bind the delicate and vigorous, spiky and fluid, melancholy and jaunty strands of the violist–composer's own String Trio no.2. The slow movements of Beethoven's Septet and Dvorák's 'American' Quartet are heart-melting.
Equally special on a miniature scale are the silken, ultra-sensitive Paradis Sicilienne and a soulful, delectable Slavonic Dance worthy of Kreisler.
The sound of the recordings is variable, cleanest in the Mozart sonatas and full concertos, elsewhere with light to pronounced background hiss, but the detail is mostly clear and the qualities of the playing aren't compromised. This volume and its companion set are invaluable testaments to an artist of remarkable scope and utmost significance. I cannot recommend them strongly enough.
NATHANIEL VALLOIS