For Christophe Coin, the French cellist, gambist and musical time-traveller, historically informed performance practice involves a combination of forensic-level investigation and leap-of-faith creativity, he tells Helen Wallace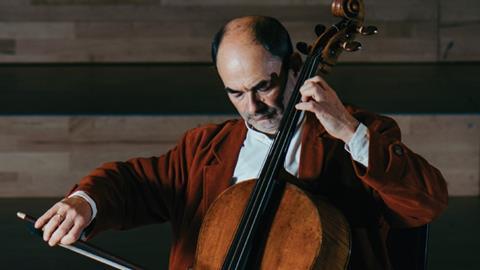 The following article is published in the Strad's February 2017 issue as part of a larger feature on cellist, gambist and historically informed specialist Christophe Coin - download on desktop computer or through The Strad App.
Christophe Coin: 'The other day I was reading a thesis about Pierre Baillot (1771–1842), who demanded that there be an opera singer on the jury for every major competition or exam in the Paris Conservatoire violin class. That's fascinating – it shows how fundamental the art of bel canto was to all musical performance. It was a shared language. Think of all those operatic paraphrases for instrumentalists at the time. There's a sense in which all the arts came together under one roof, and now they are separate. Dance is so important in French music of that time, too, all those pastorale 6/8 finales and minuets, perhaps a nostalgia for the Ancien Régime.'
Instilling a sense of historical perspective is at the heart of Coin's approach to teaching: 'I encourage my students to explore manuscripts, to find the original source – not just to rely on the Internet. It's not enough to learn Vivaldi, Bach and Geminiani. They need to play Boismortier to understand how to play continuo in French opera; they need to explore late C.P.E. Bach to discover Sturm und Drang. I learnt to realise figured bass by immersing myself in Marais; and by studying [my former teacher] Jordi Savall's performances, of course. I feel that my students don't go to enough concerts: they make videos of themselves and each other, but perhaps they don't listen to the really experienced players enough. There is no better way.'
Watch: Christophe Coin performs Vivaldi on 5-string violoncello piccolo
To read the full Christophe Coin article, download The Strad's February 2017 issue on desktop computer or through The Strad App.
Photo: Roscoe Rutter