The 1734 'Ames' Stradivarius was taken from the office of violinist Roman Totenberg in 1980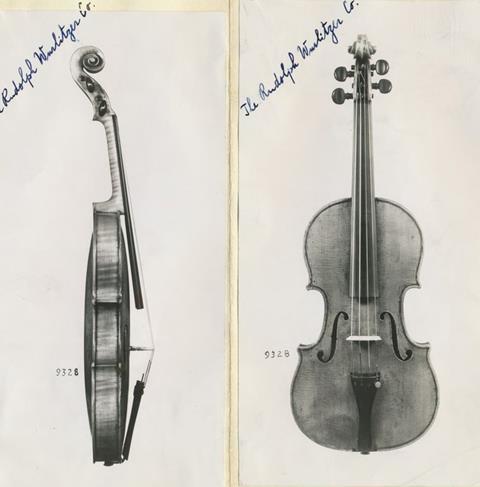 A Stradivarius violin, which was lost for 35 years, has been recovered by the FBI's Art Theft Team.
The 1734 'Ames' Stradivarius was stolen from the office of violinist Roman Totenberg as he greeted audience members following a concert at Longy School of Music in Cambridge Massachusetts in 1980. Totenberg, who performed into his 90s and taught at Boston University until his death at the age of 101 in 2012, believed he knew who took the instrument, but police insisted there was not enough evidence to issue a search warrant.
His daughter Nina Totenberg, a legal affairs correspondent for NPR News, has written that the instrument reappeared in June when the former wife of the late violinist Philip S Johnson brought a violin she had inherited from her ex-husband to violin maker and dealer Phillip Injeian in New York. Injeian identified the instrument as the stolen Strad and reported it to the authorities, who were able to call up digital images and measurements while en route to see it.
Totenberg asserts that her father always suspected Johnson of stealing the instrument, as he was seen near the office at the time of the theft. Despite this, officials have said that no charges are expected to be brought in connection with the case.
'It was a crushing loss for my father,' writes Nina Totenberg. 'As he put it, he had lost his 'musical partner of 38 years.' And when he would ultimately buy a Guarneri violin from the same period as the Stradivarius, he had to rework the fingering of his entire repertoire for the new instrument.'
Considering the Strad was maintained only by Johnson himself since its disappearance 'it's a miracle it has not sustained any major damage,' said Injeian.
The violin is to be returned to Roman Totenberg's three daughters - Nina, Jill and Amy - in a formal ceremony at the US Attorney's Office today. It will then be taken to the premises of Rare Violins of New York on 57th Street, who looked after Totenberg's Guarneri violin throughout his life, 'where it will be restored to top playing condition for its future life on the concert stage'.
Read Phillip Injeian's account of how he identified the 'Ames' Stradivarius.
Read about the armed robbery theft and safe recovery of the 'Lipinski' Stradivarius in January 2014 and about the theft of the 'Huberman' Strad, now owned by Joshua Bell.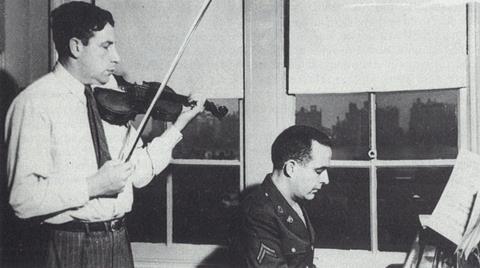 Above Picture: Roman Totenberg and Samuel Barber around 1945
'Ames' Stradivarius Picture: Courtesy of the Totenberg family
Subscribe to The Strad or download our digital edition as part of a 30-day free trial. To purchase single issues click here.