Breath control is very much like bow control, says the British violinist and Royal Academy of Music professor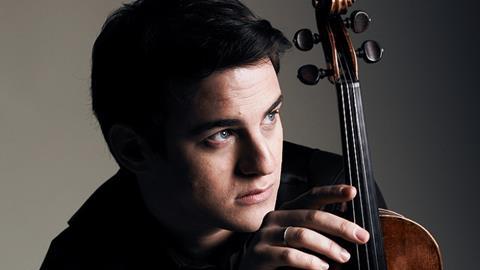 The more I teach my students at the Royal Academy of Music, the more I realise how my singing lessons and singing in various choirs as a child played a part in my philosophy of playing the violin. For the years between my studying and teaching I very seldom used my own singing voice, but nowadays in lessons I go full Pavarotti on a regular basis (apologies to my students)!
Breath control is very much like bow control. We naturally know how to manage our breath to create crescendos, to naturally develop the sound and colour of a long note, and to use consonants at the beginning of notes - 'pa, la, da, ca' etc. I increasingly find that the way to bypass many minutes (hours, weeks, months) of explanation is to get the students to sing the phrase before they try and play it.
Making sure vocally that they begin the notes with just the right consonants, I then get them to play the same on the violin, to try and imitate the vocalisations of consonants using the bite of the string. Getting them to hold the tension of a note with the mouth and squeezing the breath as it flows over the vocal chords correlates perfectly to the grip of the bow, pressure and speed. Some students will at first sing a phrase where every note starts with a 'da, da, da, da', rather than singing through with one single consonant. Of course, that doesn't make for a nice legato phrase! Once the singing is sorted, the playing seems to have a certain naturalness and barriers are removed.
Of course, singing in front of a professor and other students can prove a bit of an obstacle, as it doesn't come so naturally to some! I always remind students that we play the violin for a reason; we are not trying to be world class singers! But once all embarrassment is out of the way it is wonderful to see them find the link between using their vocal chords and the violin's ability to be naturally expressive.
As part of the BBC National Orchestra of Wales' Welsh Foundation series, Jack Liebeck performs Daniel Jones' Violin Concerto on 27 January at BBC Hoddinott Hall, Cardiff. Liebeck's new recording of Bruch's Second Violin Concerto, In memoriam and Konzertstuck with the BBC Scottish Symphony conducted by Martyn Brabbins is out now.
Visit jackliebeck.com for further details.
Find out more about the connection between singing and string playing in The Strad's March 2016 issue - here Pauline Harding talks to top international string players about the importance of breathing, speaking and singing through every phrase.
Read: Violinist Jack Liebeck on weaving a story in Kreisler encores