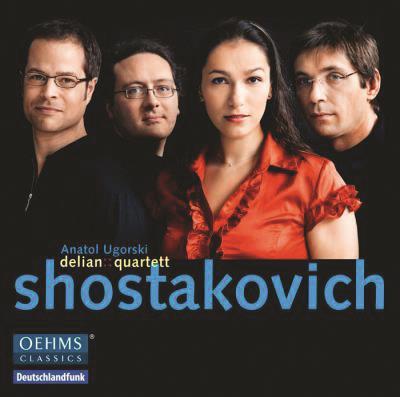 The Strad Issue: April 2016
Description: Subtle and restrained playing in Shostakovich's chamber music
Musicians: Delian Quartet, Anatol Ugorski (piano)
Composer: Shostakovich
The Delian Quartet opens Shostakovich's Fourth Quartet with rich, straightforward playing, and subsequently shows a certain reserve. In the Andantino the playing of first violinist Adrian Pinzaru is bleak, with glimpses of emotional depth beneath. In the third-movement Allegretto emotion is again held in check within dry-as-dust staccato playing. The finale is all the more affecting for its restraint, and its fortissimo central section the more wrenching.
The contrasts in the Sixth Quartet are increasingly disturbing. They are there in the opening Allegretto, as lyrical good nature is gradually subsumed by militaristic violence; in the arresting change of character in the second movement, where deadpan E flat major chugging shifts into keening B minor; in the slow unfolding of the Passacaglia, with its sad lyrical interlude taken from Prokofiev; and in the implacable finale, lit up by passages of tonal warmth. This is a subtle and rewarding performance.
The Theatre Suite, put together by Elizabeth Wilson, contains eight numbers from music for Hamlet and The Human Comedy and for the film The Adventures of Korzinkina. The Delian Quartet plays them with appropriate character and colour.
The players generate massive power in the prelude of the Piano Quintet, and by its close they have the majesty of an orchestra. The fugue is played largely with plain tone and minimum expression, framing its central angst.
As in the Fourth Quartet there is a sense of emotion reined in. Only in the finale is there some joie de vivre, albeit tinged with melancholy, to offset the tension. This is a fine CD, with warm and focused recorded sound.
Tim Homfray