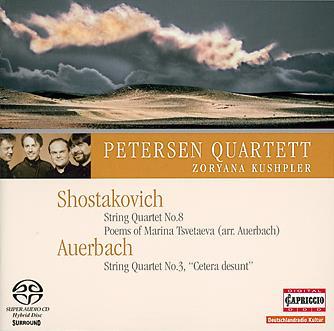 The Strad Issue: January 2006
Musicians: Petersen Quartet, Zoryana Kushpler (mezzo-soprano)
Composer: Shostakovich, Auerbach
One of many impressive details in the Petersen Quartet's playing of Shostakovich's landmark Eighth Quartet is its almost Classical poise: the opening is gorgeously serene, which makes the outburst of the fiery Allegro all the more forceful. The players' rhythmic precision is meticulous, and the dialogue between the quartet's leader, Conrad Muck, and his partners in the passage heralding a quotation from Shostakovich's First Cello Concerto comes over with lithe assurance. The Largo, with its wanly alternating solos, draws forth impassioned but never overstated playing. The lugubriously repeating 'DSCH' motif, sadly folded in, underlines the intensely personal nature of the work, something the peculiar intimacy of the Peterson's playing here never lets one forget.
The quartet also contributes handsomely to Russian pianist Lera Auerbach's arrangement of the Poems, which culminate in Tsvetaeva's passionate appeal to her fellow poet Anna Akhmatova. The solo details are delicately played – the first song is especially spare and intense, the next a dark evocation of past happiness; and all are lent atmosphere by the fine filigree of instrumental accompaniment, especially the outer parts. Again, the Petersen's restraint is telling, while the richly rounded declamation of Zoryana Kushpler gains added irony in the sinister march movement, with its fine-honed touches of eerie pizzicato.
Cetera desunt, Auerbach's own 'sonnet' for strings, adopts a similar vein, though initially feels like a beginner's study beside the Shostakovich. It has some spirited, sparkily played passages later on and one profoundly haunting slow section with eerie Schubertian echoes. Abetted by fine Capriccio sound, the Petersen players give it their exciting and excellent best.
Roderic Dunnett