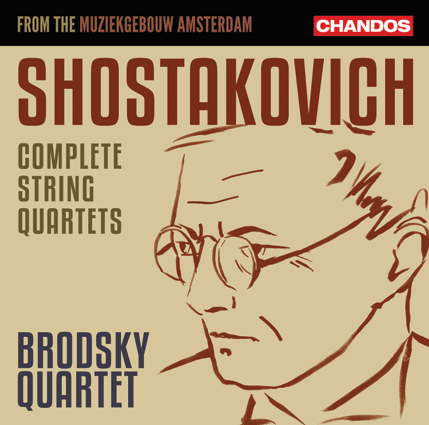 THE STRAD RECOMMENDS
The Strad Issue: January 2017
Description: The Brodsky returns to Shostakovich's quartets with breathtaking success
Musicians: Brodsky Quartet
Composer: Shostakovich
Catalogue number: CHANDOS CHAN 10917 (6 CDs)
The Brodsky's first complete Shostakovich cycle (recorded in 1989 for Teldec) was a notable achievement by any standards. Without inflicting the semantic body-blows of such legendary Russian ensembles as the Borodin, Shostakovich and Beethoven quartets, the 'Brods' shone a fresh light on the music's gloomiest recesses, responding with a probing naturalness to its restless spirit. Uniquely among complete recorded cycles, the quartet combined a profound intuitiveness with genuine warmth and affection for the music's expressive candour. Twenty-seven years later, following two changes of first violin – Michael Thomas was succeeded by Andrew Haveron in 1999 and Daniel Rowland in 2007 – the Brodsky has returned to the fray for Chandos with a series of live performances captured in the glorious acoustics of Amsterdam's Muziekgebouw.
The enhanced sonic glow of the new cycle is reflected in a series of heartfelt performances that exchange the staccato sting of mainstream Shostakovich for a ravishing cantabile intensity and eloquence. As a result, even the First Quartet, which is traditionally viewed (alongside no.2) as an inspired limbering-up exercise, emerges as a masterwork in its own right. It also sets a marker for the Brodsky's desire to imbue each quartet with its own highly distinctive emotional narrative while forming a logical part of the entire canon. Whereas in 1989, for example, the waltzing grotesquery of the Third Quartet's second movement sets up the central Allegro non troppo's manic goose-stepping, the Brodsky now keeps us guessing, imparting a tenderness to the faux-valse that enhances the shock value of what follows.
As the new cycle unfolds, one is increasingly struck by a sense of the music being not merely observed or pondered, but actually lived through. In the famous Eighth Quartet, Shostakovich emerges less as a sardonic, angry, embittered artist on the brink of self-destruction and more as a tender, deeply sensitive man tormented and overwhelmed by the tragedy of existence. The composer's undisguised cries of anguish are actually intensified by the Brodsky's soaring espressivo tendency, in stark contrast to the nihilistic downward thrust of more conventional readings.
The Brodsky saves the best till last, getting under the emotional skin of no.15 with a truly awestruck humanity that is deeply compelling. In even the most apparently downcast of gestures, the players manage to find a glimmer of hope that creates the strange impression of smiling benevolently through streams of tears. Indeed, it sets the seal on what may well be the Brodsky Quartet's crowning recorded achievement.
Julian Haylock