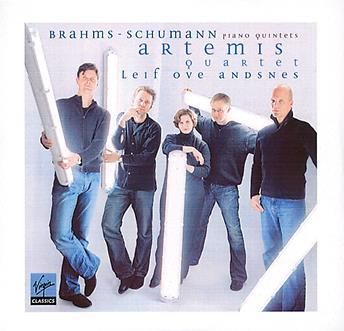 The Strad Issue: January 2007
Musicians: Artemis Quartet, Leif Ove Andsnes (piano)
Composer: Schumann, Brahms
I very much enjoyed these powerful, committed performances, which convey a strong feeling of co-operation between pianist and quartet.
Tempos seem excellent throughout, although I wish the players had been a little more daring in the ethereal introduction to Brahms's finale. Dynamic range is also good, with really soft playing to be heard, for instance at the start of Brahms's Scherzo.
Leif Ove Andsnes produces a fortissimo that is clean-cut to the point of being slightly hard-edged in the Schumann but he keeps going through his fearsome part without dropping a stitch. Leader Natalia Prischepenko plays exquisitely throughout – this is lovely Schumann style – and is just as good in the Brahms.
In fact the string playing is very fine, highlights being the first Trio of Schumann's Scherzo and Brahms's second movement. I am not sure violist Volker Jacobsen makes the most of his many opportunities – he has since moved on, along with the second violinist, Heime Müller, so perhaps this disc is the last of the old Artemis.
The recordings seem to stem from different acoustics, or perhaps have different mike set-ups. The Schumann is more cohesive, suiting the tight, organised reading, the Brahms more diffusive. In both quintets I would like to hear Eckart Runge's cello more firmly profiled – he comes through better playing pizzicato than arco.
We have had many versions of these masterpieces but few in modern times that hang together as well as these. They are not perfect but you will travel far to find better.
TULLY POTTER