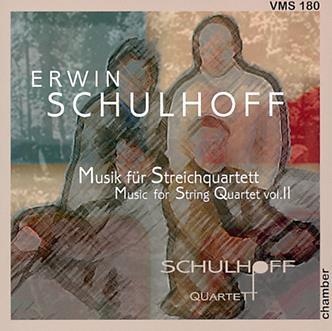 The Strad Issue: January 2007
Musicians: Schulhoff Quartet
Composer: Schulhoff
Erwin Schulhoff's Second Quartet featured on the landmark recording by Germany's Petersen Quartet (Capriccio). The Schulhoff Quartet stands in the same splendid tradition: cellist Jonás Krejcí, who studied with William Pleeth and Lynn Harrell, has played with the Petersen and ?Skampa quartets. Although all four are Czech (second violin Michal Kostka is Moravian), their main work lies in Vienna, where each has links with the Vienna Philharmonic.
Given its name and interest in Entartete Musik (music banned by the Nazis), the ensemble finds it natural home in Schulhoff's own quartets. The Second Quartet (1925) gives a wonderful indication of the verve and invention of Schulhoff's writing up to then, influenced by Dadaism, Serialism, Expressionism (and more or less every -ism going), but now settling to find its own very striking voice.
The fiery vigour of the agitated Allegro gives way to a Theme and Variations with an enchanting lilt, like a slow dance, beautifully defined and with some teasing parallels between pairs of instruments. The gay, blasé Scherzo is Stravinskian, but acquires a real weight also: leader Milan Setena's decorations are infectious (Setena is a former concertmaster of Claudio Abbado's Gustav Mahler Youth Orchestra).
Schulhoff's First Quartet (1924) is omitted in favour of his Quartet 'no.0' op. 25 (1918), an even more fascinating work. 'Frisch und kräftig' is the Mahlerian term allotted to its gestural opening Allegro. But then Strauss is suggested by the gorgeous Langsam (Andante): it's astonishing that this work predated Metamorphosen and the Sextet from Capriccio by over two decades. Setena's final bars are heavenly; and it's all beautifully recorded.
Roderic Dunnett