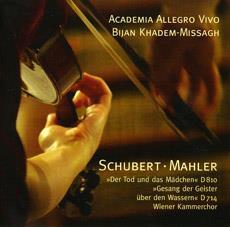 The Strad Issue: January 2009
Musicians: Academia Allegro Vivo, Vienna Chamber Choir, Bijan Khadem-Missagh (conductor)
Composer: Schubert
Gustav Mahler came in for quite a bit of stick when he arranged Schubert's 'Death and the Maiden' Quartet for string orchestra. After a performance of the variations movement in 1894 in Hamburg, he was accused of 'depriving Schubert's divine music of its intimacy'. Probably because of this adverse criticism, he never performed the complete work (he did try again in Vienna four years later, with an orchestral version of Beethoven's op.95 that was even worse received).
Unfortunately, the present performance fails to make a case for the Schubert arrangement. Mahler expected a symphony orchestra's full string section (a couple of sections are marked 'just 3 desks'). While a chamber orchestra might in theory offer the best of both worlds, the Academia Allegro Vivo sounds uncomfortably stretched in the numerous high-lying runs for the first violins, where intonation is barely acceptable (even less acceptable is a wrong note in the double bass part that comes up three times over in the Scherzo). Mahler's instructions are not always followed: a solo violin is inauthentically introduced in a couple of places, and the alternation of muted and non-muted phrases in the slow movement goes unobserved. The few places where the additional volume of massed strings actually makes its effect are just not enough to recommend this recording. The careless cutting off the decay at the very end is literally the last nail in its coffin. The fill-up, a beautiful Goethe setting for men's voices and low strings, would be worth rescuing in another context.


Carlos María Solare