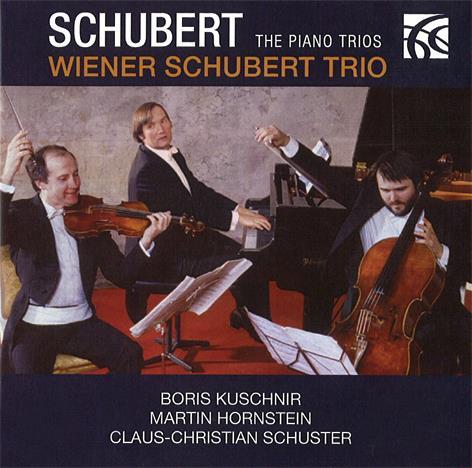 The Strad Issue: January 2011
Description: A fine set of Schubert's music for piano trio
Musicians: Vienna Schubert Trio
Composer: Schubert
Though not billed as such, this lovely set makes an apt memorial to the cellist MartinuHornstein, who died in 2009. The recordings were made in 1991, near the end of the Vienna Schubert Trio's eight years. Hornstein and pianist Claus-Christian Schuster continued to collaborate for a further decade in the Altenberg Trio.
The three men – Ukrainian Boris Kuschnir is on violin – sail majestically into the B flat major Trio and avoid slowing too much for the second subject. Within a nice easy tempo for the Andante, they find a vein of melancholy that many ensembles miss. They establish just tempos for the scherzo – with an expressive trio – and the finale.
A good, sturdy tempo pays dividends in the Allegro of the E flat major Trio, with lovely runs from the pianist. He and Hornstein make a fine start to the Andante, which is well executed, although I prefer a slightly broader tempo, as from the classic Busch and Casals and more recently Les Musiciens (Harmonia Mundi). The scherzo is alertly done and they open Schubert's cuts in the finale, sustaining it well.
The Nocturne and the early Sonata are well played. The recordings show traces of digital distortion, mainly in the two finales. Interpretatively, this set is as good as any.
TULLY POTTER