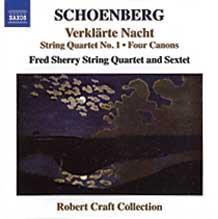 The Strad Issue: January 2011
Description: Exemplary performances of Schoenberg's later music for strings
Musicians: Fred Sherry Quartet, Rolf Schulte (violin) Christopher Oldfather (piano)
Composer: Schoenberg
These recordings of Schoenberg's String Quartets nos.3 and 4 are surely close to exemplary. Phrasing is so beautifully shaped, and the players manage to achieve the perfect measure of Expressionist opulence of tone colour. Cellist Fred Sherry's string quartet, originally formed to perform and record Schoenberg's String Quartet Concerto, is rather a movable feast in terms of members, but all are fine soloists, and together they harness a fantastic consistency of approach.
In the Third Quartet, led by Jennifer Frautschi, the bounding Rondo is typical of the players' refined, infectious style. Leila Josefowicz is first violin for String Quartet no.4, to perhaps even greater effect: the grit and heft of the violin's opening phrase in the Allegro molto sets the tone for a movement of power and fearless intensity. The third-movement Largo is a joy, full of deep-throated yearning and infused with a fierce concentration of expression, all virtuosically delivered by these excellent musicians.
Rolf Schulte's violin sound in the Phantasy for violin and piano has an edginess to it that sounds a little rasping after the luxurious textures of the quartets, but this is a well-considered and passionate performance, Schulte given thoughtful and sensitive support by pianist Christopher Oldfather.



Catherine Nelson