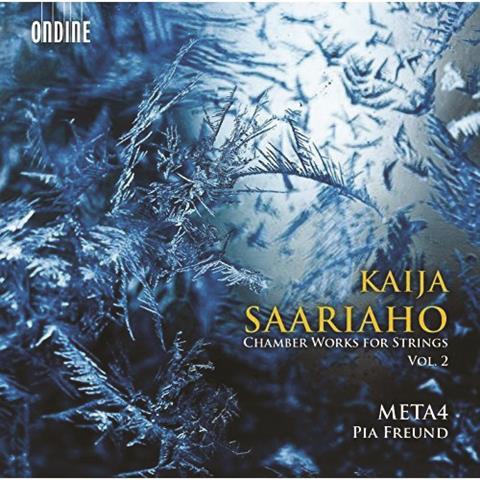 The Strad Issue: February 2017
Description: Finnish musicians continue their survey of Saariaho's quartet works
Musicians: Meta4, Pia Freund (soprano)
Composer: Kaija Saariaho
Catalogue number: ONDINE ODE 1242-2
Meta4's second instalment of quartet works by Kaija Saariaho sees the Finnish composer at her best and worst, and it's a thin line that separates the two. Yes, light and colour are of paramount importance to the composer, as argued by annotator Kimmo Korhonen. The problem is when explorations of light and/or colour come at the expense of any sense of momentum or movement in music that instead feels like a bankrupt exercise in obsessive tinting.
That, of course, might be of great technical interest to string players. But if you like your explorations of colour to come with a bit of palatable music too, then the best pieces here are those that open and close the disc. There is the sense of something happening, falling, in Fleurs de neige (1998) and those shifting colours (with all manner of bow techniques) happen to be utterly beguiling as well. Terra memoria (2006), written for the Emerson Quartet, is concentrated but fertile, an evocative vision of memories fragmenting and transforming.
In between, as in …de la terre (1991) and Changing Light (2002), I hear little more than self-regarding musical wallpaper, for all the technical brilliance, interpretative spirit and reactive listening brought to the table by the excellent Meta4. The quartet is also listed as the producer. It gets a good sound from itself at Karjaa Church in Finland.
Andrew Mellor