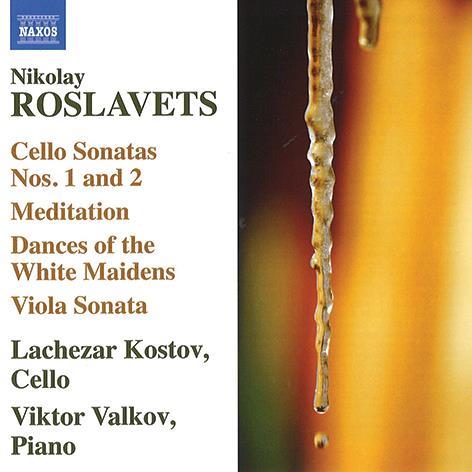 The Strad Issue: January 2011
Description: Impressive playing that manages to surmount a heavy-going musical voice
Musicians: Lachezar Kostov (cello) Viktor Valkov (piano)
Composer: Roslavets
In his heyday in the 1920s, Nikolai Roslavets (1880–1944) was viewed as a progressive, boundary-pushing composer. Yet by the end of the decade, his post-Scriabinesque chromaticism fell victim to the new climate of Stalinism which demanded that composers write works that could be understood by the masses. Even today, his musical language, with its dissonant melodic patterns underpinned by complex harmonies clad in Russian melancholy and intensity, is aurally taxing. His early works, on the other hand, owe allegiance to Debussy, not only in terms of timbre but also through their predilection for pentatonic and modal harmonies. These features are particularly evident in Dances of the White Maidens (1912), one of the more accessible works on the disc. The 1926 Viola Sonata transcribed here for the cello also retains some allegiance to this style, despite several passages of anguished chromaticism.
Naxos's compressed recording (a quality particularly noticeable in the more forceful range of dynamics) does few favours to the committed and technically impressive readings from these Bulgarian artists, who have immersed themselves in Roslavets's musical vernacular and display much empathy in their performance. Certainly in this dense writing every gesture needs to be exaggerated to create vivid contrasts and contour the emotional map, and there are times, particularly in the extended Second Cello Sonata, when a greater freedom with regard to pacing and rubato would perhaps throw more relief into the musical dialogue. Yet this is an excellent opportunity to explore these intriguing works.


Joanne Talbot