Dr Engleman worked until his death at the University of California, and practised his violin for an hour a day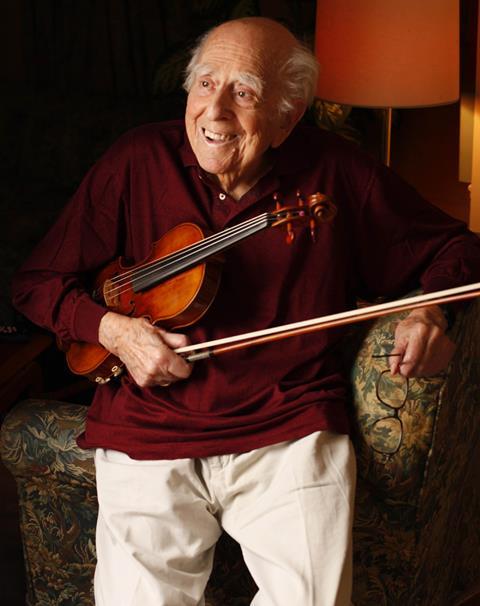 Dr Ephraim P. Engleman - renowned rheumatologist, violinist and instrument collector - has died at the age of 104.
The senior faculty member at the University of California, San Francisco, was still working at the time of his death on 2 September. He practised and taught at the UCSF Medical Center since 1947 and founded the Rosalind Russell / Ephraim P. Engleman Rheumatology Research Center at the university in 1979 – in response to the death of movie star and rheumatoid arthritis sufferer Rosalind Russell.
Born in 1911 in San Jose, the son of a Russian immigrant, Dr Engleman was trained to be a concert violinist by his mother and gave his first solo performance at the age of six. As a teenager he performed the soundtracks to silent films in cinemas, and became the leader of the Fox California Theater house orchestra in 1927, the same year he graduated from high school.
He went on to study at Stanford University, graduating in 1933, and earned his medical degree at Columbia University in New York in 1937.
Despite his pioneering work in the field of rheumatoid arthritis, Dr Engleman continued to practise his violin for an hour a day and played one night per week with the San Andreas String Quartet – a mixed amateur and professional group. He also published 'My Century', a book of memoirs, at the age of 102.
A collector of fine stringed instruments, Dr Engleman owned at various times the 'Engleman' Antonio Stradivari violin of 1709 and the 'Muntz' Stradivari violin of 1736, in addition to the 'Carrodus' Guarneri 'del Gesù' violin of 1743, and the 1704 'Marquis de Sers' violin by Pietro Guarneri of Mantua.
He is survived by Jean, his wife of 74 years – due to celebrate her 100th birthday in December – two sons and a daughter, six grandchildren and three great-grandchildren.
Photo: Craig Lee www.craigleephoto.com