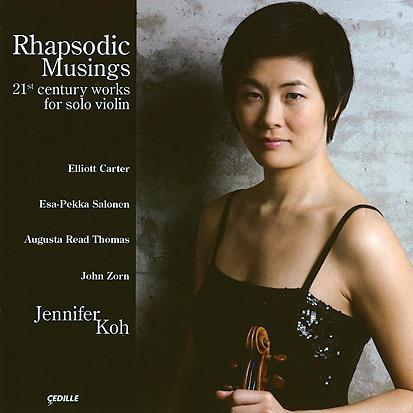 The Strad Issue: January 2010
Musicians: Jennifer Koh (violin)
Composer: Salonen, Carter, Read Thomas, Zorn
When this disc is loaded into a computer, a menu pops up with links to relevant websites, and the option of viewing a video interpretation of Esa-Pekka Salonen's Lachen verlent, made by artist and filmmaker Tal Rosner. It seemed to me to be a little gimmicky at first, but I was completely won over – Rosner's simple, abstract visual exploration of the work is perfectly attuned to every nuance of phrasing, attack and pitch of Salonen's piece, so that watching it does enhance the experience.
That said, Jennifer Koh's performance doesn't need any enhancing – she's a past master at making contemporary music sound warm and inviting, and Salonen's nod to Pierrot lunaire is beautiful, anxious and meditative by turns, Koh colouring every phrase with subtlety and tenderness.
Elliott Carter's Four Lauds are tributes to friends of the composer, including Aaron Copland. Koh's rich tone colour and control make them deeply moving, and Augusta Read Thomas's strident, singing Pulsar comes across as equally affecting. Koh shrewdly avoids the disc becoming too rhapsodically samey by ending with an eight-movement John Zorn work. Its nervous energy and angular phrases are like a set of caprices, which Koh dashes off with drama and huge energy, particularly the mechanistic dancing of no.3 and the quivering detail of no.7. This is a performer with the rare skill of drawing listeners into uncompromising music with the sheer beauty and conviction of her performance. The recorded sound is very fine, too, ensuring that Koh's exquisite range of tonal shadings is given full weight.



Catherine Nelson