Classical and Neoclassical masterpieces enthrall in readings of great immediacy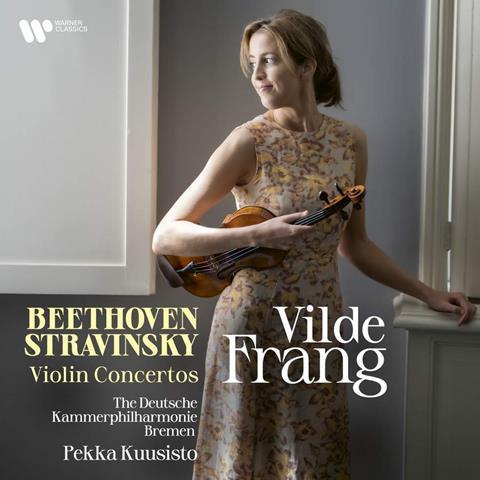 The Strad Issue: December 2022
Description: Classical and Neoclassical masterpieces enthrall in readings of great immediacy
Musicians: Vilde Frang (violin) Kammerphilharmonie Bremen/Pekka Kuusisto
Works: Beethoven: Violin Concerto op.61. Stravinsky: Violin Concerto
Catalogue number: WARNER CLASSICS 0190296676437
Beethoven, in the most symphonic of violin concertos, demands absolute complicity between soloist and conductor. They must be in on the job together, and here they are, to a degree rivalled in my experience only by Veronika Eberle and Simon Rattle (whom I heard live in concert; there's a projected LSO Live CD in the pipeline). So you might expect from Kuusisto, who must have played the solo part himself even more often than Frang, but drop into the first movement's G minor side-chapel of prayer to hear Frang and the Bremen players in full communion, without any sentimental slackening of the movement's steady basic pulse.
Those in search of fuller tone from their soloist have plenty of alternatives, though there's nothing hair shirted about Frang's supple vibrato, the grave cantabile she brings to the Largo or her playfully spontaneous approach to the finale's main theme (echoed by some off-the-cuff woodwind ornamentation). All I would wish is that her highly articulate phrasing did not lead to quite so many gabbled and swallowed notes in the outer movements.
For the Stravinsky, Frang pulls out a dirtier sound that stands up well to the Parisian circus orchestration. She defies any notions of the piece as an exercise in Neoclassical alienation with a sinewy commitment to the opening Toccata's balletic combat, finding contrasting modes of inner turmoil within the two arias and a sense of euphoric release in the finale. Despite the brightly lit studio ambience, it's easy to picture the hair flying off her bow. With Frang, we can hear what Balanchine heard when he choreographed the concerto not once but twice.
PETER QUANTRILL