Souvenirs de Faust, transcriptions & arrangements of works by Moszkowski, Chopin, Guignon, Mondonville, Leclair, Handel, Senaillé, Bach & Raff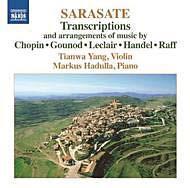 The Strad Issue: January 2014
Description: An enjoyable finale to a valuable series exploring the Spanish virtuoso's music
Musicians: Tianwa Yang (violin), Markus Hadulla (piano)
Composer: Sarasate
Young Chinese violinist Tianwa Yang has been busy lately for Naxos. With this release of arrangements and transcriptions by Sarasate she concludes her four-volume survey of the Spanish virtuoso's works for violin and piano, following her earlier two-volume complete works for violin and orchestra.
There's an intriguing mix of familiar and forgotten works here. A handful of waltzes and nocturnes by Chopin rub shoulders with his contemporary Moszkowski's Guitarra and there's a Baroque sequence taking in Handel's 'Largo' from Xerxes and Bach's 'Air on a G string' – both of which suffer from Sarasate's lumpen realisation in the piano part – as well as works by Leclair and his lesser-known contemporaries.
The well-packed disc ends with Raff's La fée d'amour, which Joseph Gold in his booklet notes identifies as Sarasate's own favourite concert item: but it's unremarkable for most of its 18-minute duration, except that Yang imbues it with charm while negotiating with ease its fast string-crossing and its sometimes stratospheric writing. The three Chopin waltzes are pretty enough, even if, shorn of the melody line, pianist Markus Hadulla resorts to some un-Chopinesque rubato.
The lesser-known of Sarasate's fantasies on Gounod's Faust, entitled Souvenirs de Faust, is a welcome rarity and Yang is especially stylish in the two Leclair sonata movements. Captured in a recording that conveys Yang's range of articulation and tonal colour, this is a worthy conclusion to her Sarasate series.
Edward Bhesania