Unusual programme is another winner from this distinguished partnership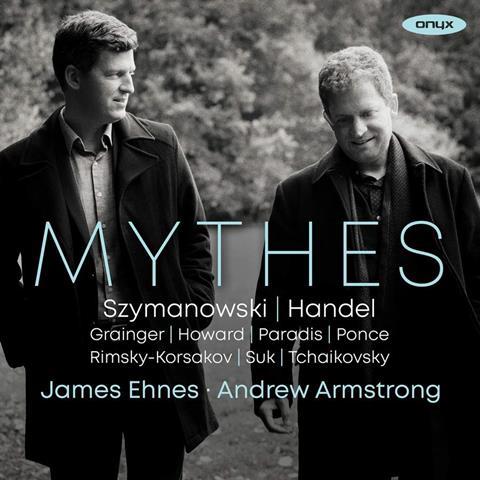 THE STRAD RECOMMENDS
The Strad Issue: September 2023
Description: Unusual programme is another winner from this distinguished partnership
Musicians: James Ehnes (violin) Andrew Armstrong (piano)
Works: Handel: Sonata in D major HWV371. Szymanowski: Mythes op.30; works by Grainger, Howard, Paradis, Ponce, Rimsky-Korsakov, Suk and Tchaikovsky
Catalogue number: ONYX ONYX4234
This is an intriguing disc, with two highly contrasting main works and a collection of short pieces. In the first of Szymanowski's Mythes, 'La fontaine d'Arethuse', Ehnes, with his ever-excellent partner Andrew Armstrong, covers a lot of narrative ground, from the ethereal opening pages to the thrilling double-stopped F major climax and away to shimmering tremolos. In 'Narcisse' he gives a masterly demonstration of sustained lyrical playing as he traverses Szymanowski's erotic landscape, and in 'Dryades et Pan' he conjures up a lascivious and decidedly creepy Pan emerging from the purity of his flute-like harmonics.
After that, Handel's D major Sonata comes as a harmonic palate cleanser. Ehnes is steady and gracious in the opening Affettuoso, and the subsequent Allegro sparkles with crisp rhythmic energy. In the Larghetto, as in 'Narcisse', his melodic line is seamless, its contours simply and beautifully shaped, and the final Allegro dances joyously along.
The group of encores (as Ehnes calls them in the notes) includes the 'Burleska' from Suk's Four Pieces op.17, a moto perpetuo of scampering semiquavers, brilliantly despatched, Tchaikovsky's 'Souvenir de Hapsal' op.2 no.3, sophisticated and insouciant, and the stomping lusty reels of Grainger's Molly on the Shore to finish. The recording is warm, clear and well balanced.
TIM HOMFRAY