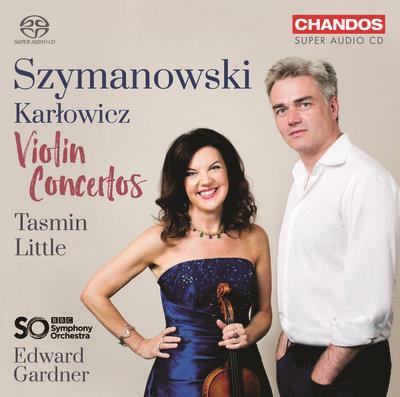 THE STRAD RECOMMENDS
The Strad Issue: November 2017
Description: Romantic concertos that stand in a class of their own
Musicians: Tasmin Little (violin) BBC Symphony Orchestra/Edward Gardner
Composer: Szymanowski, Karlowicz
Catalogue Number: CHANDOS CHSA 5185
'I maintain that our national music is not the ossified ghosts of the polonaise or the mazurka,' Szymanowski declared. 'Rather, it is the lonely, joyous, unbound song of the nightingale on a fragrant Polish night.' Taking the composer at his word, Tasmin Little, Edward Gardner and the BBC Symphony Orchestra (on majestic form) envelop the First Concerto in a web of ecstatic sensuality, captured in exemplary sound that gently cocoons the listener, especially when the SACD track is activated.
If the modern tendency in both concertos is to emphasise the music's occasional left-field flights of fancy, the Chandos team places these glorious scores firmly in the late Romantic period, with Little soaring aloft and magically inflecting phrases with a heart-warming intuitiveness. Her spellbinding account of the Second Concerto's notorious opening-movement cadenza is, quite simply, in a class of its own.
Szymanowski's slightly older Polish contemporary, Mieczysław Karlowicz, was killed by an avalanche aged just 32 – a tragic accident made all the more poignant by the quality of his surviving music. The op.8 Violin Concerto is unashamedly post-Tchaikovskian in tone, with uncanny resemblances to the Arensky and Conus concertos (then both hot off the press) along the way. Little is once again on peak form, playing with infectious virtuosity and ravishing tone.
JULIAN HAYLOCK