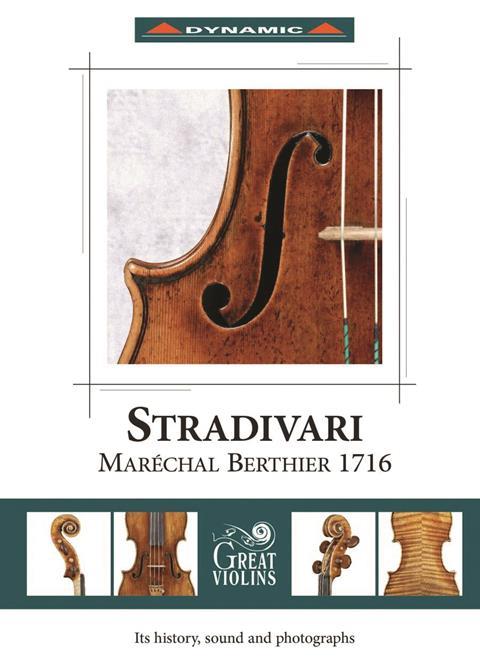 The Strad Issue: November 2018
Description: Musical programme showcases the character and soul of a great violin
Musicians: Pavel Berman (violin), Giuliano Mazzoccante (piano)
Works: BACH Solo Violin Partita no.2 in D minor BWV1004 – Chaconne. BEETHOVEN Violin Sonata no.5 in F major op.24 'Spring'. BRAHMS 'FAE' Scherzo in C minor PAGANINI Caprice in A minor op.1 no.24. SARASATE Carmen Fantasy op.25. YSAŸE Solo Violin Sonata in D minor op.27 no.3 'Ballade'
Catalogue Number: DYNAMIC CDS7733
Every now and again, Dynamic celebrates a great violin: this time it is the 'Maréchal Berthier' Stradivari of 1716, once owned by Napoleon and Franz von Vecsey. To show it off, Pavel Berman and pianist Giuliano Mazzoccante recorded a programme in 2016, its tercentenary.
The Bach Chaconne is played and structured so well, it makes you want to hear the whole Partita. Tempos in Beethoven's 'Spring' Sonata are excellent: Berman's tone in the Adagio is particularly beautiful and although I have tiny reservations about the pianist, this interpretation is first-rate. The Paganini Caprice is well played as to the actual notes but some of the variations are a little hurried.
The musicians do not hang about in the Brahms Scherzo, yet they catch its drama well. The Ysaÿe Sonata, the single movement dedicated to Enescu, is superbly despatched by Berman. Sarasate's Carmen Fantasy, like the Chaconne closely associated with Vecsey (he plays two-thirds of it on Testament SBT2 1323), rises to great intensity in the Card Scene.
Berman handles the difficulties impressively but speeds up too frantically in the final section: it is virtuosic but not very musical and, like the Paganini, brings to mind Milstein's dictum that rhythm is more vital than velocity.
The disc comes in a box with a comprehensive booklet – although neither the bow nor the strings used are divulged – and a poster of the violin. The sound is splendid but I would have liked a second or two longer between the pieces.
I listened to some of Beethoven's E flat major Sonata played on this instrument by Vecsey, with pianist Guido Agosti, but the sound produced by the Hungarian is completely different from Berman's, as you might expect.
TULLY POTTER