Musical trains on a journey between Czech composers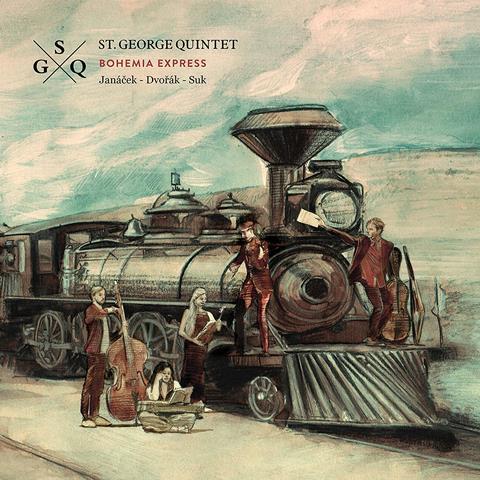 THE STRAD RECOMMENDS
The Strad Issue: May 2020
Description: Musical trains on a journey between Czech composers
Musicians: St George Quintet
Works: Dvořák: String Quintet in G major. Janáček: Suite for Strings. Suk: Meditation
Catalogue Number: ST GEORGE QUINTET V2W
While there's an extent to which every recording represents a significant investment of time, thought and emotion, Bohemia Express exudes significantly more than most. Recorded in the warmly supportive concert hall of the Brussels Conservatory, this is the young Belgian St George Quintet's second CD, following British Legends of 2017. Conceptually, Dvořák sits as the central linchpin, his folk-infused quintet preceded by his great friend Janáček's multi-style Suite for Strings, and followed by his favourite pupil and son-in-law Suk's Meditation on the old Czech chorale on Bohemia's patron saint (composed to counterweight the obligatory playing of the Austrian National Anthem during First World War concerts). Investment-wise, the recording was informed by a visit to the Czech Republic undertaken not to play but to listen – catching the Dvořák Express train connecting Dvořák's and Janáček's respective cities of Prague and Brno, chatting to locals and attending a folk festival. Plus, look online and you'll find a beautifully shot complimentary film charting the whole musical and geographical adventure.
The actual album is very fine indeed, presenting readings that shine with understanding and appreciation of the music's folk influences, while not for a second losing sight of the quintet's personal identity as polished classical musicians. Melodies sing with lyrical naturalness. Blending is superb – the overall balance of tones and parts, but also the way one phrase grows into the next, and one movement drops into the following one. Always they're moving as one. Perhaps the highlight is the Suite for Strings, where the impression of cohesion and developing arch of thought runs effortlessly from first movement to fifth. Its Adagio is exquisite.
The only frustration for listeners will be that, unlike the ensemble's debut album on Pavane, this own-label effort is genuinely a disc, unavailable for streaming. However it's also unquestionably worth the effort of a physical purchase.
CHARLOTTE GARDNER