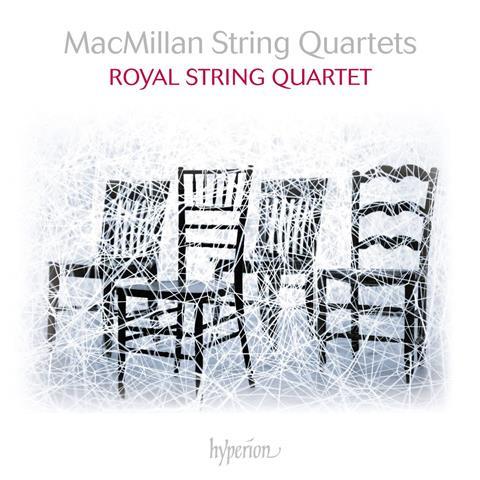 The Strad Issue: September 2018
Description: Pristine performances of quartets by a great living composer
Musicians: Royal Quartet
Works: MACMILLAN Visions of a November Spring; Why Is This Night Different?; String Quartet No.3
Catalogue Number: HYPERION CDA68196
Seldom can a string quartet have sounded so effortlessly immaculate. There's an astonishingly pristine quality to these assured accounts of James MacMillan's three numbered string quartets from young Polish foursome the Royal Quartet.
The Royal players bring sharp definition – and, it has to be said, quite a hard edge – to even the densest, thickest textures of the Third Quartet, teasing apart MacMillan's rich heterophony to marvellously vivid effect. There's a brutal precision to their frenzied dance that closes the first quartet, Visions of a November Spring. Their ensemble is uncannily precise – bringing an almost electronic quality to the explosive chords with which MacMillan often interrupts his keening, folk-inspired melodies – and their chameleon-like ability to vary their ensemble sound is put to compelling effect in his often startlingly abrupt changes of mood.
The nagging doubt, however, is that despite the surface precision, the Royal players tend to shy away from grappling fully with MacMillan's drama – of the 'sheer frenzy, craziness' of his own creative surge in Visions of a November Spring, for instance, or a child's view on spiritual renewal in the second quartet, Why Is This Night Different? These are works with drama embedded deep within them, and despite their immaculate, exquisitely rendered accounts, that's something that the Royal players sometimes struggle to convey.
DAVID KETTLE