Gallic elegance brings a fresh perspective to these introspective works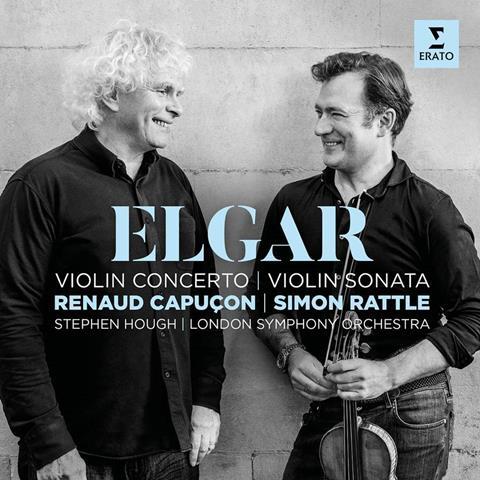 The Strad Issue: May 2021
Description: Gallic elegance brings a fresh perspective to these introspective works
Musicians: Renaud Capuçon (violin) Stephen Hough (piano) London Symphony Orchestra/Simon Rattle
Works: Elgar: Violin Concerto; Violin Sonata
Catalogue number: ERATO 0190295112820
Elgar's Violin Concerto is an elusive interpretative butterfly that sounds at its happiest when the soloist is communing inwardly. Play every note for all its worth and the structure can easily topple under the emotional weight; play it straight and its stream-of-consciousness thematic patterning loses any sense of organic cohesion. Renaud Capuçon navigates this tricky musical terrain with a disarming sureness of touch, his silvery tonal purity combining with a tantalising Gallic restraint that captures the very essence of Elgar's nobilmente creative personality. And when the notes start flying, he retains absolute musical composure, most notably in the finale's extended cadenza-reminiscences, which emerge as gentle nostalgic flutterings free of self-conscious pyrotechnical chicanery.
Simon Rattle and the LSO, fanned out around and behind him in strict, socially distanced formation, match Capuçon every inch of the way, with playing of glowing sensitivity that focuses on poetic integrity rather than Straussian bravado. Producer Stephen Johns and engineer Jonathan Stokes somehow create an integrated sound world that at times suggests the soloist and orchestra communing with one another on a chamber scale.
The Violin Sonata is another work that can easily become suffocated by shows of aching autumnal nostalgia, so it comes as a revelation to hear it played, as here, with a Fauré-like elegant poise and sophistication. Stephen Hough offsets Capuçon's inspired melodic tracery and gentle musings with a captivating array of tonal colours and liquid phrasing.
JULIAN HAYLOCK