Bravura performances of Polish-born Soviet composer's concertos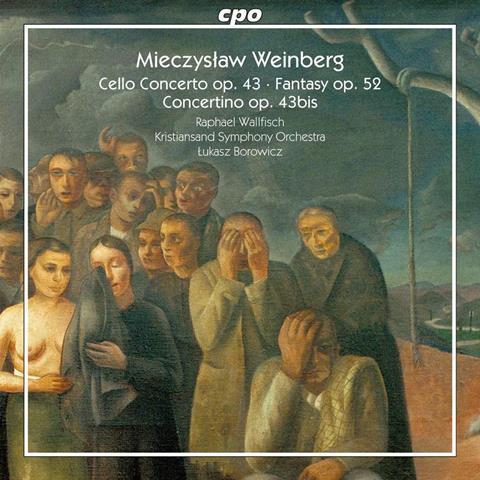 The Strad Issue: May 2020
Description: Bravura performances of Polish-born Soviet composer's concertos
Musicians: Raphael Wallfisch (cello) Kristiansand Symphony Orchestra/Łukasz Borowicz
Works: Weinberg: Cello Concerto in D minor op.43; Fantasy op.52; Concertino op.43bis
Catalogue Number: CPO 5552342
Mieczysław Weinberg, born in Poland but exiled for his entire adult life in Russia after fleeing Hitler, always asked to be called by his Polish first name rather than the original Jewish Mojsze. These two parts of his heritage mix with Russian influences in this latest disc in CPO's series of cello concertos by exiled Jewish composers.
Easily the most profound work of the three is the Cello Concerto, premiered in 1957 by Rostropovich. The pulsating opening orchestral chords and the wide sweep of the cello theme herald a work of great seriousness. Wallfisch brings immense stature to the solo part, his cello singing out with passionate eloquence. The solo cello is prominently recorded, and the bright recorded sound showcases the vivid palette of colours that Borowicz draws from his Norwegian players, whether in loud klezmer-style music, brash Shostakovian irony or moments of brooding tenderness.
In the Concertino (1948) Wallfisch weaves a story with his wonderfully expansive opening melody, holding our rapt attention. Jewish and Polish folk styles combine here and in the 1952 Fantasy, written shortly before Weinberg's imprisonment for 'Jewish-bourgeois nationalism', with the movements in both works linked by bravura double-stopped cadenzas. Wallfisch responds to the folk quality of the music with an authentic ease.
JANET BANKS