Finding flashes of greatness in Italian Baroque cello repertoire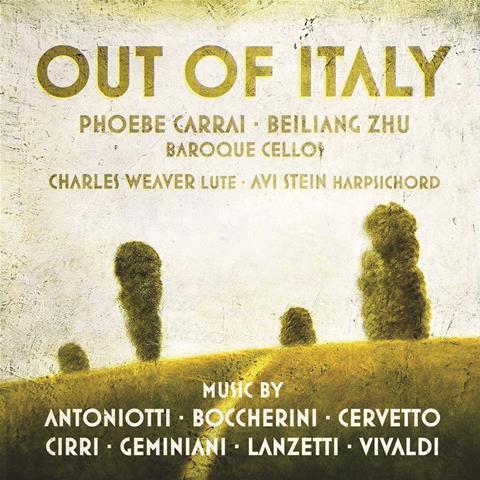 The Strad Issue: September 2019
Description: Finding flashes of greatness in Italian Baroque cello repertoire
Musicians: Phoebe Carrai, Beiliang Zhu (Baroque cellos) Charles Weaver (lute) Avi Stein (harpsichord)
Works: ANTONIOTTO Sonata in G major op.1 no.8 CERVETTO Divertimento in G major op.4 no.1 GEMINIANI Sonata in F major op.5 no.5 VIVALDI Sonata no.6 in B flat major RV46 BOCCHERINI Sonata in C major G17 LANZETTI Sonata in A minor op.1 no.5 CIRRI Duet in G major op.8 no.3
Catalogue Number: AVIE AV2394
American Baroque cellist Phoebe Carrai shares the limelight with her protégé, Beiliang Zhu, and is joined by two Juilliard School colleagues for this exploration of the wealth of cello music written in the 18th century by Italians living across Europe. The repertoire, it could be argued, is not quite interesting or varied enough for an entire disc, but there are some charming movements and occasional flashes of genius. The recorded sound could benefit from a little more resonance to cover the sometimes scratchy sound of bow on gut.
Of the three unaccompanied cello duets, written for teacher-pupil duos, the Divertimento by Cervetto, solo cellist at London's Theatre Royal Drury Lane, is a revelation with its variety of textures and graceful minuet. Boccherini's features much delicate cross-string work, though Zhu's tuning in the highest range is not always pure.
In the remaining Sonatas the continuo group is balanced to the fore, with the continuo cellist often joining the other as an equal in duet, and the harpsichord also prominent. Zhu, first prize winner at Leipzig's 2012 International Bach Competition, plays the intricate figurations of Antoniotto's highly decorated melodic line with grace, while Carrai takes the lead in Lanzetti's sonata with a stylish performance and a totally captivating Minuet and Trio.
JANET BANKS