A magnificent voyage of discovery from a musical maverick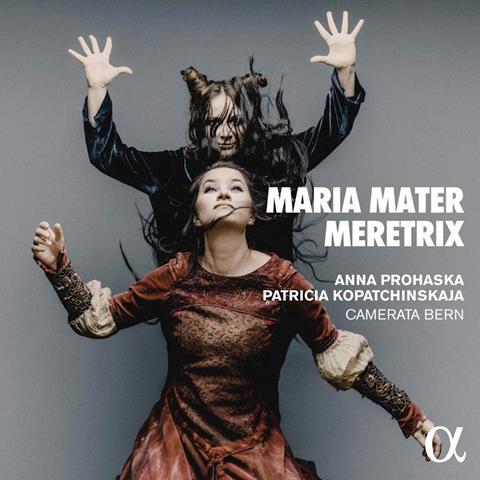 The Strad Issue: June 2023
Description: A magnificent voyage of discovery from a musical maverick
Musicians: Anna Prohaska (soprano) Patricia Kopatchinskaja (violin) Camerata Bern
Works: Music by Boulanger, Caldara, Crumb, Dufay, Eisler, Haydn, Hildegard of Bingen, Holst, Kopatchinskaja, Kurtág, Lotti, Martin, Victoria and von der Vogelweide
Catalogue number: ALPHA 739
The cover shows soprano Anna Prohaska in medieval dress while, in typically theatrical fashion, behind her lurks a demonic-looking Patricia Kopatchinskaja. This theme of woman as saint or sinner runs through this eclectic mix of music across ten centuries.
Central to the CD is Frank Martin's Maria Triptych for soprano, violin and orchestra, three cameos from the life of the Virgin Mary, here inexplicably interspersed among the disc's other offerings. Martin's style is an individual mix of atonality and Neoclassical clarity. As the first cameo, the 'Ave Maria', closes, Kopatchinskaja's violin continues to rise stratospherically to the words 'kein Ende' (no end). The orchestral chaos of the 'Magnificat' portrays the world being turned upside down, with the solo violin playing exquisitely in its highest reaches around 'Holy Is His Name', and there is passionate and powerful playing from Kopatchinskaja after the battering discords of the 'Stabat mater'.
In Holst's touching 'Jesu Sweet' the violin part's double-stops and spread chords have an improvisational, folky feel. Then there are three brief Kurtág Kafka Fragments that see the violin shifting its discordant double-stops under a slow vocal line, then engaging in virtuosic perpetual motion in the fourth fragment, 'Wiederum Wiederum'.
Kopatchinskaja also contributes her own Felino, a whimsical unaccompanied snatch of a piece, played with delicacy and panache, well captured by the disc's lucid and crisp recorded sound.
JANET BANKS