Three centuries of lovely and effective music seen through the female gaze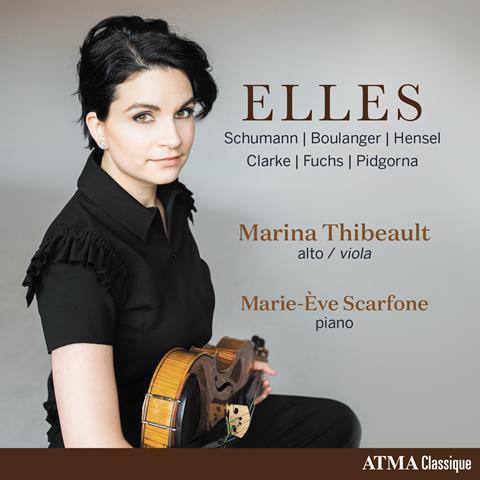 The Strad Issue: December 2019
Description: Three centuries of lovely and effective music seen through the female gaze
Musicians: Marina Thibeault (viola) Marie-Ève Scarfone (piano)
Works: SCHUMANN Three Romances op. 22 BOULANGER Trois Pièces HENSEL Dämmrung senkte sich von oben CLARKE Viola Sonata FUCHS Sonata Pastorale PIDGORNA The Child, Bringer of Light
Catalogue Number: ATMA ACD2 2772
A slight reshuffling of its contents would have made this lovely programme of compositions written by women from three centuries even more effective as a recital. The ethereal harmonics and eerie ponticello sounds of Anna Pidgorna's unaccompanied The Child, Bringer of Light (2012) would have made for a nice contrast placed among the darkly Romantic effusions that constitute most of the bill of fare, rather than at the end, where it comes as a bit of an afterthought.
That bit of nit-picking apart, Marina Thibeault, perceptively partnered by Marie-Ève Scarfone, makes an excellent case for performing Clara Schumann's violin Romances (written in 1853 for Joseph Joachim) and Nadia Boulanger's cello Pièces (composed in 1913) on the viola.
Requiring only minimal adjustment, these charming miniatures benefit from Thibeault's plangent tone and expressive phrasing. The soloist's grasp of long-term structure and rhythmic assurance keep Lillian Fuchs's potentially rambling unaccompanied Sonata Pastorale (1956) firmly on its tracks; the piece's 'semplice' atmosphere is nicely caught, much being made of its sonorous drones.
Rebecca Clarke's Sonata receives a somewhat understated reading; one could have wished for a more expansive interpretation of the final Adagio, but tempos are finely gauged, and Thibault exhibits a crisp spiccato in the piece's central Scherzo. Warmly recorded in Domaine Forget's concert hall (Québec), the recital ends – in my personal reordering! – with Fanny Hensel's setting of a Goethe poem as a melodious encore.
CARLOS MARíA SOLARE