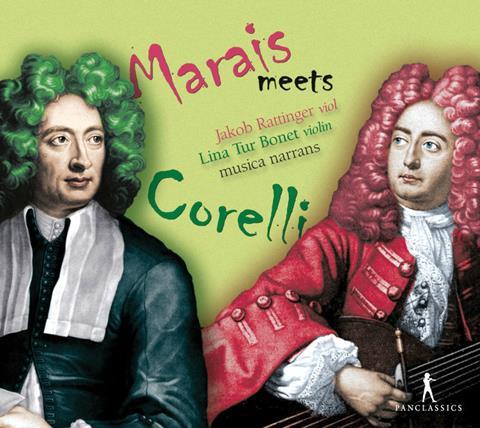 The Strad Issue: May 2019
Description: Bringing 17th-century viol music to vivid, communicative life
Musicians: Lina Tur Bonet (violin) Jakob Rattinger (viola da gamba) Ensemble Musica Narrans
Works: Works by Biber, Corelli, Forqueray, Hume, Marais and Morel
Catalogue Number: PAN CLASSICS PC 10395
This CD's contents cover a much broader spectrum than its title implies, taking in as it does viol music by Tobias Hume (published in 1605) and going all the way to the instrument's late apogee, represented by a Chaconne by Antoine Forqueray, published posthumously in 1747.
Hume's Harke, harke makes for a fitting introduction to the eponymous 'meeting', which itself takes the form of a jam session that combines variations on the Folia theme by Marin Marais and Arcangelo Corelli (their respective sets were published just a year apart at the turn of the 18th century), padded out with exhilarating improvisations by the musicians involved.
Otherwise, violin and viol 'meet' in Marais's La Sonnerie de Ste. Geneviève and a Chaconne en trio by his student Jacques Morel; the former instrument is further showcased in sonatas by Corelli and Ignaz Biber, and the latter with more music by Marais.
Many of the pieces included are in the form of variations on an ostinato bass, but any potential monotony is avoided because the musicians do their group's name proud with playing that is consistently communicative in its intensity.
Listening to Bonet, I was reminded of a contemporary description of Corelli in performance: his eyes turned 'red as fire', such was the passion he put into his playing.
Tur Bonet vibrates with emotion in slow music, while meeting the extravagant virtuosity of Biber's Sonata head on, bringing forth flashes of sound.
Jakob Rattinger is equally comfortable when in the limelight or as a pro-active accompanist, and his instructive liner notes add to the value of this vividly recorded, attractively presented CD.
CARLOS MARÍA SOLARE