Dennis Rooney hears a performance of modern works from Philadelphia's Benjamin Franklin Hall on 26 May 2021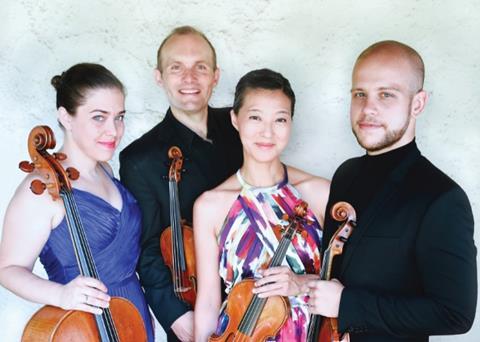 The Quartet no.1 (2001) by Vivian Fung (b.1975) opened a programme of works by five North American female composers. It was highly colourful and a pleasing combination of the usual four movements. It profited from the impressive ensemble, tonal suavity and instrumental balance of the Jaspers, formed in 2003 and a feature of Philadelphia's musical life since 2016.
Dust by Keiko Deveau (b.1982) seemed an amorphous, evanescent collection of sounds which included fragmentary allusions to the 'Heiliger Dankgesang' of Beethoven's Quartet op.32. The mood was suitably meditative but veered close to soporific. Middleground (2016) by Shelley Washington (b.1981), more rhythmic in character, seemed about to break into a dance but never quite found its way. A contrapuntal episode preceded a return to the almost-a-reel of the conclusion.
'Will There Be Any Stars in My Crown?' and 'I'll Fly Away' are bluegrass Gospel classics. Their vitality and simple emotion were not qualities of the abstracted and highly stylised settings by Caroline Shaw (b.1982) in which the Jaspers were joined by soprano Sarah Shafer. In the Shadow of Sirius by Jennifer Higdon (b.1962), a cycle of five poems by W.S. Merwin from a larger collection of the same name, the musical idiom was derivative but assured; however, a simple reading of the poems produces a music superior to any in the setting. Shaffer and the Jaspers were efficient if not altogether persuasive advocates for both works.
DENNIS ROONEY